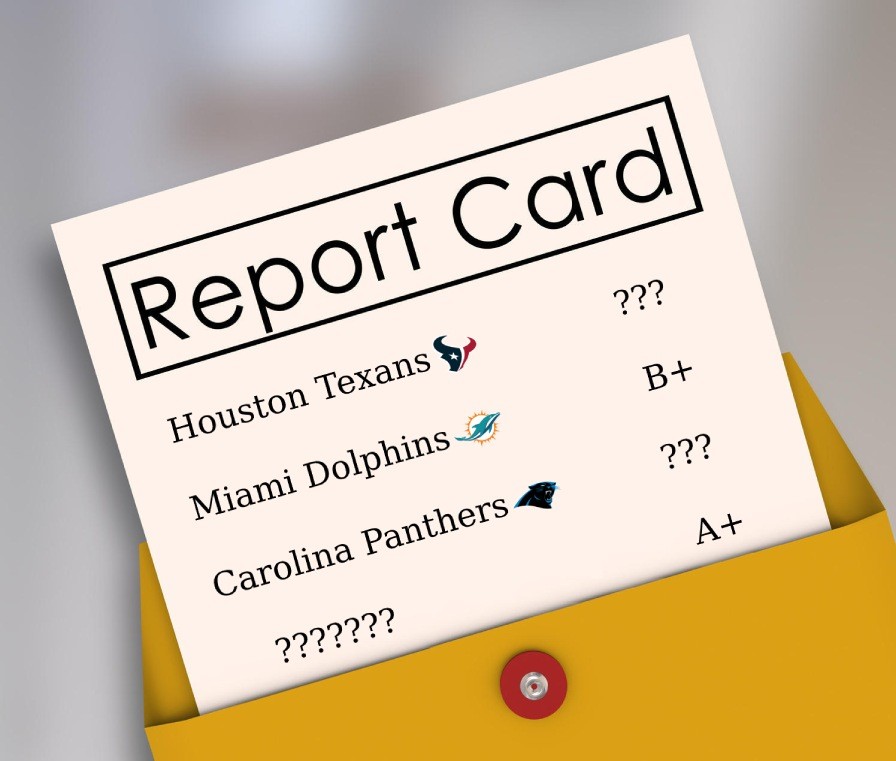 The 2020 NFL Draft was stock full of talented players and plenty of value selections alongside with plenty of reaches and head scratching decisions. We had trades left and right, leaving teams like the Vikings and the Dolphins with over 10 selections this year. Which team left the 2020 NFL Draft as the winner? We discuss it below! This is a list of draft hauls alone, picks traded for veteran players weren't used in these rankings.
Impact Player
Steal/Value Selection
Reach Selection
f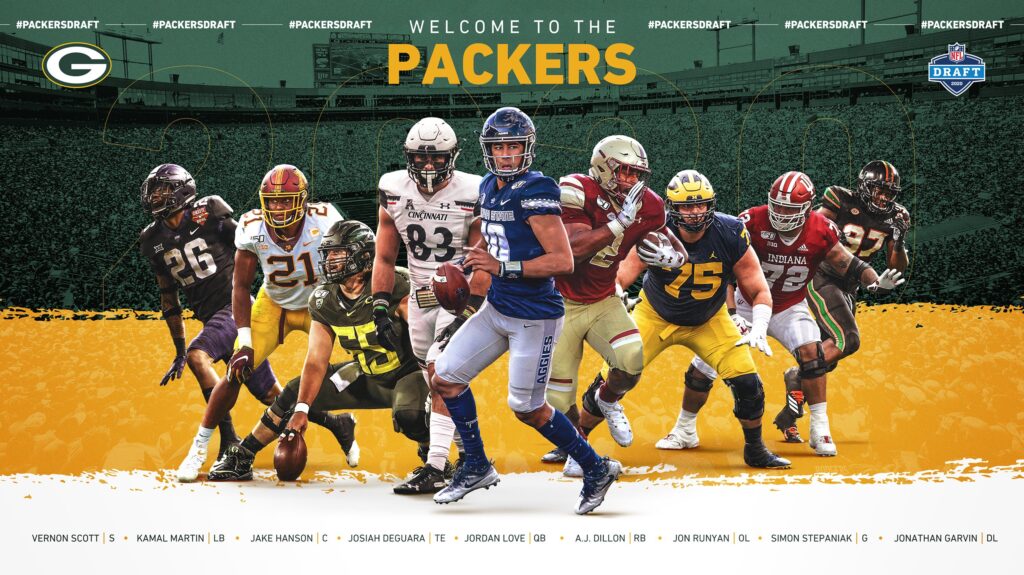 32. Green Bay Packers
Jordan Love, A.J. Dillon, Josiah Deuara, Kamal Martin, Jon Runyan, Jake Hanson, Simon Stepaniak, Vernon Scott, Jonathan Garvin
The Packers didn't make this too hard of a choice, as they drafted six offensive players with their first seven picks, and none of them were a wide receiver. Even crazier, it's possible none of them even see playing time next year. I personally love Jordan Love; he has tons of talent and I think he will become a good NFL quarterback in the future. Pair him with an offensive minded coach like LaFleur, and I think good things can happen. As for A.J. Dillon in the second round? I don't understand it. They selected him over Zack Moss, and probably could have waited for Dillon in the 3rd round. Adding versatile offensive lineman like Runyan and Hanson gives their offensive line more depth considering they can both playing inside or out. For a team that was just one game away from a Super Bowl appearance you would think they might look for more prospect that could help day 1 (Lynn Bowden Jr?).
D-
31. Las Vegas Raiders
Henry Ruggs III, Damon Arnette, Lynn Bowden Jr, Bryan Edwards, Tanner Muse, John Simpson, Amik Robertson
Whether it's Oakland or Las Vegas, the Raiders still had a Mike Mayock/Jon Gruden type of draft. First they took Henry Ruggs III as the first receiver off the board, much to my surprise, then passed on Jeff Gladney, Trevon Diggs, and a few other corners for Damon Arnette. Personally I had him as a late 2nd Round pick. I do like the Lynn Bowden selection, but then to add another receiver with the very next pick seemed a little stale. Of course they had to grab some Clemson players too, because they're football guys. Amik Robertson was a defensive back that gained more traction on Twitter than he did with NFL scouts, but should give the Raiders a nice young core with Arnette and Mullen already there. Once again the Raiders addressed positions of need, but the value of the selections are extremely questionable.
D+
30. Philadelphia Eagles
Jalen Reagor, Jalen Hurts, Davion Taylor, K'Von Wallace, Jack Driscoll, John Hightower, Shaun Bradley, Quez Watkins, Prince Tega Wanogho, Casey Toohill
Jalen Reagor is going to be a good wide receiver. Other than that though, this draft class is a little frightful to look at for Eagles fans. Carson Wentz is one of the most fragile quarterbacks in the NFL, but that doesn't mean you use a 2nd round pick on his back up. I like Jalen Hurts a lot, and he knows how to play the back up role well, but his talent level is way There is either more to this pick, or it was a wasted pick. Neither seems to be a good answer for Philly fans. K'Von Wallace is a good defensive back, but I don't expect him to be any form of safety help any time soon. I think he will make his impact as a nickel corner. Hightower and Watkins seem a little excessive after drafting Jalen Reagor in the 1st. Prince Tega Wanogho is their best value pick, and fills in that 6th man offensive line role.
C-
29. Houston Texans
Ross Blacklock, Jonathan Greenard, Charlie Heck, John Reid, Isaiah Coulter
Ross Blacklock was a good pick for Houston. A hometown kid, who can come in and replace the workload of D.J. Reader who went to Cincinnati. Jonathan Greenard is also a good selection, and should fit well into their defense. I think he can compliment Mercilus until he is ready to fill that role himself. That's about it for the good of this draft class though. Trading up for Charlie Heck is a poor move considering the Eagles got a tackle like Wanogho in the 7th. I think taking John Reid over someone like Bryce Hall is going to be a mistake, but at least they brought in a new face to their secondary. Isaiah Coulter is a receiver I will admit, I don't know much about, but does have great athletic traits. At 6'2, 198 lbs, Coulter ran a 4.45 40 yard dash, and had 12 touchdowns in 11 games last year as a junior.
C-
28. Pittsburgh Steelers
Chase Claypool, Alex Highsmith, Anthony McFarland Jr, Kevin Dotson, Antoine Brooks Jr, Carlos Davis
If you were to consider Minkah Fitzpatrick as their 1st Round pick, then that would obviously make this group a tad bit more pleasing, but I am not. Pretty much everyone else on this list isn't going to see playing time in 2020, or have limited reps at the very most. Dionte Johnson proved to be a reliable receiver last year, and James Washington has had his flashes too, making it relatively odd to see them select a receiver that high. The Highsmith selection is probably my favorite considering Bud Dupree's contract situation and the lack of insurance they had at the position coming into the draft. While James Connor has struggled to stay on the field, I don't like drafting McFarland as running back insurance. Not only did they select Benny Snell Jr last year, many teams also had McFarland Jr off their boards for character concerns. A team that has gone through so much off the field drama recently I think it is in their best interest not to bring in players that might might carry those issues back into the locker room.
C
27. Atlanta Falcons
A.J. Terrell, Marlon Davidson, Matt Hennessy, Mykal Walker, Jaylinn Hawkins, Sterling Hofrichter
The Atlanta Falcons are always one of the hardest teams for me to predict during the time of the draft, and the 2020 NFL Draft class is just another example of that. They started off reaching for A.J. Terrell, a cornerback most viewed as a Day 2 pick, late Day 1 at best. He does fit their scheme well, but I really think they could have found a more efficient way of getting him on the roster. Marlon Davidson will give them someone to hopefully fill the role of Tak McKinnley, whose 5th year option was declined earlier this week. As for everyone else, I would expect them to see depth roles until further notice. Matt Hennessy could possibly find a starting role as a guard until the Falcons need to replace Alex Mack.
C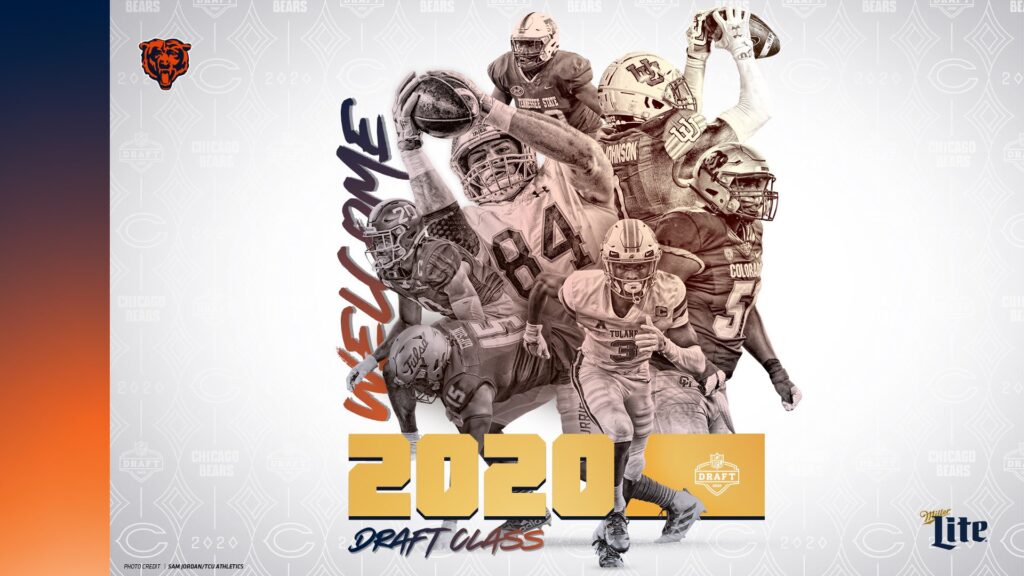 26. Chicago Bears
Cole Kmet, Jaylon Johnson, Trevis Gipson, Darnell Mooney, Arlington Hambright, Lachavious Simmons
The Bears did what they could with their limited draft picks. They had two picks in the 2nd Round, and then had to wait till the 5th, 6th and 7th Rounds to draft again after that. With that being said, drafting Cole Kmet with their first selection was underwhelming to say the least, but they did draft Jaylon Johnson seven picks later to make up for it. Cornerback is one of the biggest needs the Bears had to address, especially if you consider trading for Nick Foles as a fix to their quarterback situation. Johnson played most of last season with a torn right labrum, and will have to rehab that before starting his rookie season. While the Bears were one of the worst teams at getting after the quarterback last season, they signed Robert Quinn from the Cowboys. Drafting Gipson seems almost irresponsible considering the help they could use across the offensive line, and their offensive woes. What can you do when you trade everything for Khalil Mack, trade up to whiff on your young quarterback, and then trade for his replacement? Not much is the answer.
C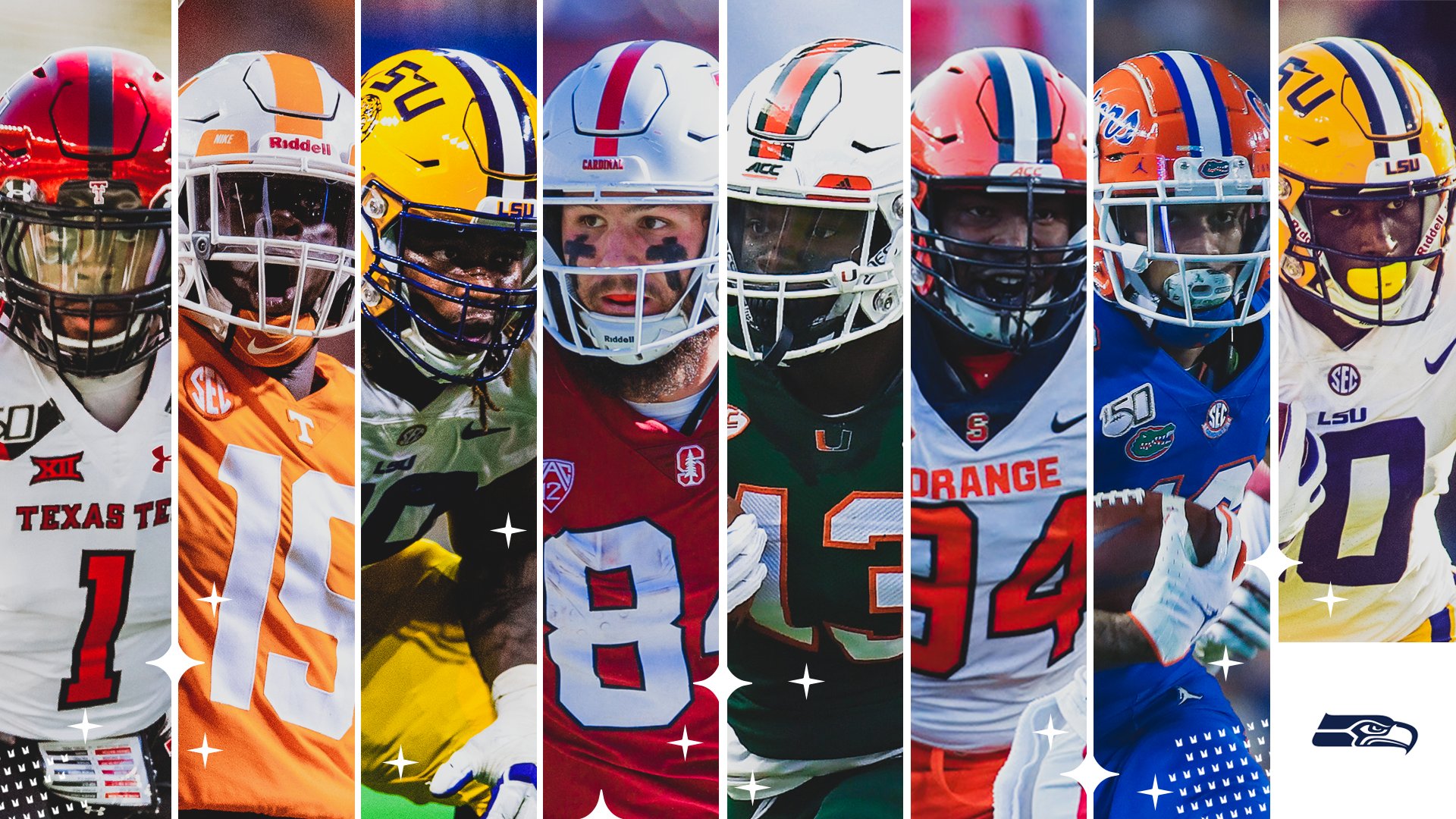 25. Seattle Seahawks
Jordyn Brooks, Darrell Taylor, Damien Lewis, Colby Parkinson, DeeJay Dallas, Freddie Swain, Stephen Sullivan
Drafting Jordyn Brooks is a huge mistake in my eyes considering the Seahawks want to win now, and Brooks debatably wasn't the best player at his position. Like the Packers, selecting players that can make an impact from the jump should be priority No. 1 in the 1st Round. Damien Lewis is a mauler of an offensive guard, and should fit perfectly in the Seahawks running offense. Now that Seattle has moved on from D.J Fluker, Lewis should see playing time early on in his career. Colby Parkinson is a 6'7, 255 lb tight end from Stanford, and gives Wilson yet another big target to throw to. Reports have been very positive about Will Dissly's rehab process, but this is his second serious lower body injury in a row, and the Seahawks most likely want more insurance for such a vital position to their offense. It wouldn't be a Seattle draft if they didn't select a running back, so they went with University of Miami's DeeJay Dallas. I don't know what to exactly make of this considering the 12 other young running backs they have on the roster. Freddie Swain is a speedy receiver who reminds me a lot of a poor man's Tyler Lockett, and should find a solid role as a returner. Simply put, the Seahawks draft hauls don't tend to be impressive till they step on the field. The problem is some of these players won't step on the field too often in 2020.
C
24. Washington Redskins
Chase Young, Antonio Gibson, Saahdiq Charles, Antonio Gandy-Golden, Keith Ismael
Outside of Chase Young I don't really like this draft class too much. Chase Young was my best overall player in the entire 2020 NFL Draft, and I think will take this defensive line over the top. Antonio Gibson can make an impact Day 1 in the return game, but will he play wide receiver for the Redskins? You would assume so with Derrius Guice, and Bryce Love being drafted the past two years, and the lack of receivers in general for Washington. Saahdiq Charles is not going to be a Trent Williams replacement, but he can be a starting tackle. He has a few off the field concerns, but I think he is athletic enough to find his way into a starting line up. Out with Josh Docston, and in with Antonio Gandy-Golden. It is obvious that the Redskins want to have big receivers and Gandy-Golden provides well less of a risk factor than someone drafted in the 1st Round.
C
23. Tennessee Titans
Isaiah Wilson, Kristan Fulton, Darrynton Evans, Larrell Murchison, Cole McDonald, Chris Jackson
The Titans surprised many with how deep they were able to get into the playoffs, and showed they dont have too many holes on the roster. They lost Jack Conklin, but outside of that they were able to keep most of the squad together to run it back in 2020. Isaiah Wilson can play right tackle for the Titans, but not only do I feel like there were better tackle prospects left on the board, I believe Wilson will struggle to find his footing early in the NFL. They made up for it though by selecting Kristan Fulton in the 2nd Round, who was my 3rd overall cornerback in the 2020 NFL Draft. Darrynton Evans will give the Titans an explosive, home-run, type of running back and should fill in for Dion Lewis quite smoothly. Larrell Murchison is someone I am not too familiar with, but comes from NC State who run a similar defense as the Titans do. He can play inside or 3-4 defensive end, and had a productive season for the Wolfpack in 2019. I have always been a fan of Cole McDonald. He has things he needs to tune up, but he can make big plays happen. Bringing him in as a backup quarterback is something I am a big fan of now that Mariota is in Las Vegas.
C
22. New England Patriots
Kyle Dugger,Josh Uche, Anfernee Jennings, Devin Asiasi, Dalton Keene, Justin Rohrwasser, Michael Onwenu, Justin Herron, Cassh Maluia, Dustin Woodard
I think everyone was waiting to see what quarterback the Patriots were going to draft to attempt to replace Tom Brady, but instead we were fed an extremely New England-esque draft process. A bunch of trading around for players that might not have the flashy names but will ultimately fit their system. The Pats probably would have been happy taking Kyle Dugger in the 1st round, so to trade in the 2nd round to get him is even sweeter. Dugger is a versatile defender, just like the Patriots love, and should find a role rather easily in New England. They went back to back edge defenders, then back to back tight ends with the next two picks. Josh Uche and Anfernee Jennings are both smart edge defenders that will help revitalize the Patriots pass rush. A young quarterback most likely will be starting Week 1, so finding him a safety blanket tight end is probably high on New England's list.
C+
21. New Orleans Saints
Cesar Ruiz, Zack Baun, Adam Trautman, Tommy Stevens
The Saints moved all around the draft board in the 2020 NFL Draft, but wound up with only four (high impact) selections. Cesar Ruiz can step in for newly released Larry Worford. Tommy Stevens isn't going to be an NFL quarterback in my eyes. I don't know the exact game plan with him, but I oddly see him as someone to provide insurance if Taysom Hill were to get injured. Zack Baun was a prospect many people were high on, and I do see him as a high floor player, but I don't know how well he fits in with the Saints. Adam Trautman is a developmental tight end that probably won't make too much of a significance to the offense for New Orleans in 2020. Taking the leap from FCS level football to NFL level football might be a tough hurdle to take on.
C+
20. San Francisco 49ers
Javon Kinlaw, Brandon Aiyuk, Colton McKivitz, Charlie Woerner, Jauan Jennings
Mel Kiper said it best, "For the 49ers, it was quality over quantity". I really expected this to be Jerry Jeudy, but in typical 49ers fashion, they selected a defensive lineman with the 14th overall pick. Javon Kinlaw is one of the best defensive prospects in the draft, and will fill the hole left from DeForest Buckner. Kyle Shannahan took his No. 2 receiver on the board, and that was Brandon Aiyuk. A little bit of a head scratcher, as you still had players like Higgins and Laviska Shenault on the board, but you go with your gut in the NFL. McKivitz was a smart pick considering the sudden retirement of Joe Staley on Day 3 of the draft. He is someone that can move around the offensive line, giving them some insurance for injuries. A pick I'm not a fan of is Jauan Jennings. The 49ers do need to add receiver depth, but Jennings ran a 4.74 and doesn't do anything perfectly. I think if they wanted to add another receiver after Aiyuk they should have done it earlier.
I do have to note they acquired Trent Williams with their 5th Round pick from this year, and a 3rd for 2021. Great trade overall for the 49ers, but it doesn't change the rankings of the draft class.
C+
19. Buffalo Bills
AJ Epenesa, Zack Moss, Gabriel Davis, Jake Fromm, Tyler Bass, Isaiah Hodgins, Dane Jackson
The Buffalo Bills have quietly added another talented draft class to help address the teams biggest needs. They spent their 1st round pick to acquire Stefon Diggs, and help improve your young quarterback. Then went out and got a big physical defensive lineman to pair next to Ed Oliver, the Bills 1st round pick last year. His combine showed his physical flaws, but turn on the tape and you understand why he had 1st round buzz. Zack Moss was an underrated running back coming into this draft process, and fits the play style of the Bills to a T. Buffalo could easily have found their Frank Gore 2.0 in Moss. Gabriel Davis is a long, deep threat, wide receiver that we know Buffalo loves. Both Davis and Hodgins give them some much needed height as Diggs, John Brown and Beasley are all 6'0 or under. Of course everyone wants to talk about the Jake Fromm selection, but I view that simply as solidifying your back up position.
C+
18. Los Angeles Chargers
Justin Herbert, Kenneth Murray, Joshua Kelley, Joe Reed, Alohi Gilman, K.J. Hill
Despite all the rumors and smoke, the Chargers walked away taking Justin Herbert 6th overall. I think he is the perfect quarterback for the Los Angeles Chargers. Herbert is from the west coast, has a huge arm, and as Colin Cowherd would say "the quarterback face". As a Ravens fan, when the Chargers jumped back into the 1st Round, I was a little hurt. Kenneth Murray is going to be a stud in my eyes, and he could be the last piece for the Chargers to form an elite defense. Joshua Kelley is a UCLA running back, and will be a depth piece at best. K.J. Hill was a nice 7th Round pick for the Chargers who have a quietly thin receiver group. Travis Benjamin is now on the 49ers, but Hill should be able to fill his role nicely, along with being a returner. The production the Chargers will get from their first two picks is enough to put this draft haul near the middle of the pack.
C+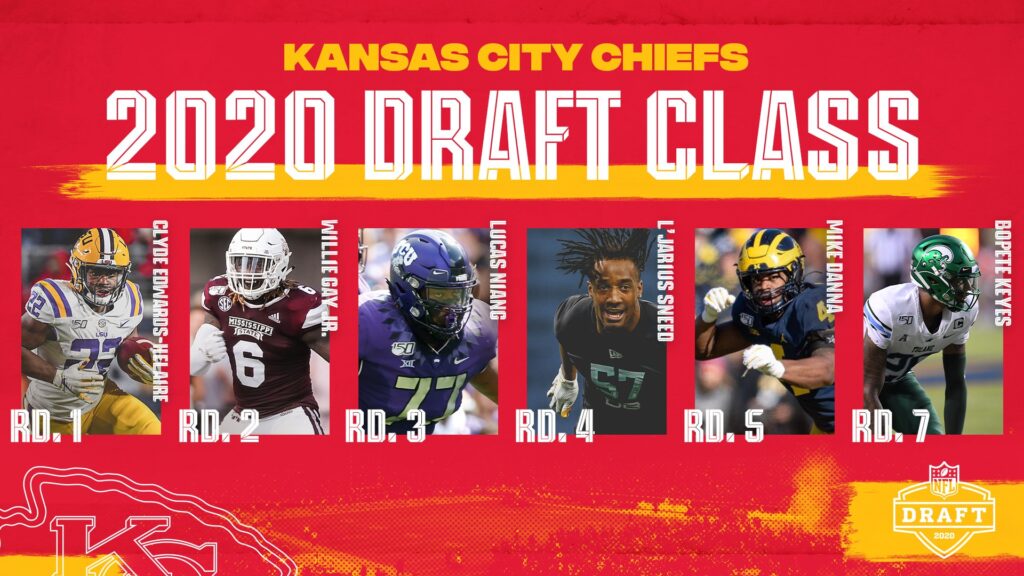 17. Kansas City Chiefs
Clyde Edwards-Helaire, Willie Gay Jr, Lucas Niang, L'Jarius Sneed, Michael Danna, Thakarius Keyes
Kansas City drafting Clyde Edwards-Helaire at the end of the draft not only left us with a boom, but was probably the most surprising pick of the 1st round. We were all waiting for a running back to go, but not many expected it to be CEH. His skillset is exactly what the Chiefs love out of the back field, and should be very exciting to watch with the rest of this offense. They definitely could have used this pick to address a need like safety or cornerback, but I think the number one goal in Kansas City is to score points. Willie Gay Jr is a missile. He is one of the fastest linebackers in this class, and makes plays. He was supposedly the player that punched his starting QB in the face, but after watching a few plays of Miss State's offense last year, I get it. If it wasn't for that I think he could have gone in the 1st Round. Depending on who you ask, Lucas Niang could be a steal sitting in the 3rd Round. I think considering the Chiefs offensive tackle depth, Niang could provide good reps for an offense that doesn't need to get any better.
B-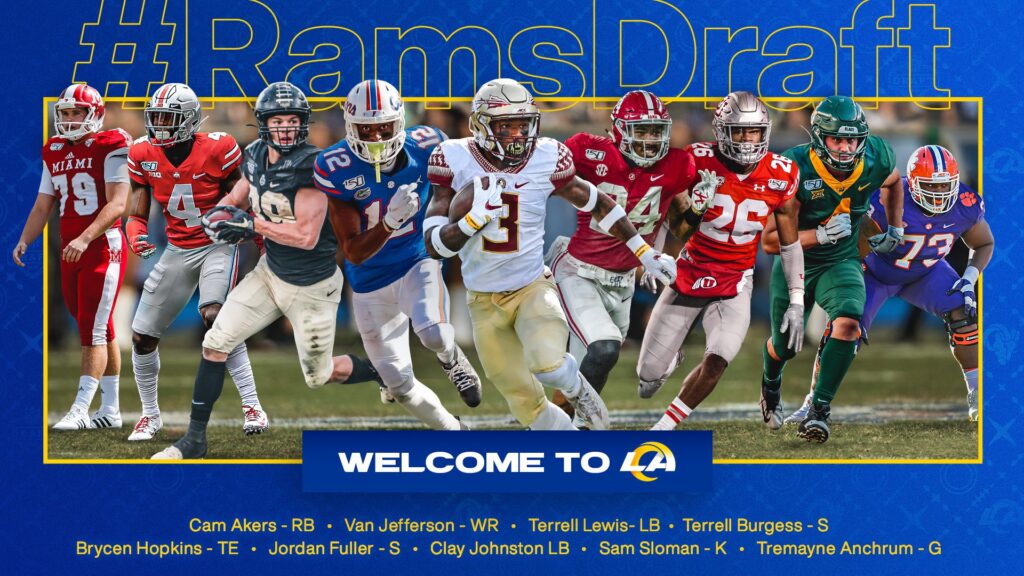 16. Los Angeles Rams
Cam Akers, Van Jefferson, Terrell Lewis, Terrell Burgess, Bryce Hopkins, Jordan Fuller, Clayton Johnston, Sam Sloman, Tremayne Anchrum
This was a very safe draft class for the Rams. While they don't really have any prospects I'd say is a "star", nearly all of them will be good NFL players. The Rams already have their Jared Goff, Aaron Donald, and Jalen Ramsey though. They aren't necessarily looking for star players as much as they are depth for the roster. Cam Akers has the best opportunity to make an impact early in the season, but everyone else will most likely be integrated into the game plan through out the season. Van Jefferson will help the offense flow without Brandin Cooks. Jefferson is not the same receiver as Cooks, but can find holes in the defense and provide solid production for a third receiver behind Kupp and Woods. Clayton Johnston is a linebacker that I think could have been an early Day 2 pick if his season wasn't halted by an ACL injury. He is instinctive and could find himself with game reps towards the later end of the season.
B-
15. Detroit Lions
Jeffrey Okudah, D'Andre Swift, Julian Okwara, Jonah Jackson, Logan Stenberg, Quintez Cephus, Jason Huntley, John Penisini, Jashon Cornell
Jeffrey Okudah was my 5th overall player this year, and a huge need for the Lions with Slay being shipped off to Philly. The Lions did sign Desmond Trufant in free agency, but Okudah has the potential to take over as the No. 1 corner back sooner rather than later. D'Andre Swift was an odd selection but pairs him with Kerryon Johnson, and makes them very deep at running back. Something you can rarely say in Detroit. Backing up the Swift pick is the selection of offensive linemen Jonah Jackson and Logan Stenberg. Beefing up the offensive line will not only help create holes for their run game, but also keep Matthew Stafford upright too.
B-
14. Arizona Cardinals
Isaiah Simmons, Josh Jones, Leki Fotu, Rashard Lawrence, Evan Weaver, Eno Benjamin
Isaiah Simmons was a little surprising, but someone that will immediately improve their defense. I personally thought they would fall into the trap of drafting a wide receiver with their 1st round pick, but in a very non-Kingsbury move they only used two picks on offense. Being able to draft Josh Jones in the 3rd round was one of the best picks in the entire draft considering Jones was getting serious Day 1 buzz. Isaiah SImmons and Josh Jones alone would give the Cardinals a passing grade for me. Leki Fotu and Rashard Lawrence not only beef up the interior of their defensive line, but also have very compatible skill sets. The Pac-12 Defensive Player of the Year falling to the bottom of the 6th Round doesnt really make sense, but adding Evan Weaver gives Chandler Jones some assistance on the edge.
B
13. Tampa Bay Buccaneers
Tristan Wirfs, Antoine Winfield Jr, Ke'Shawn Vaughn, Tyler Johnson, Khalil Davis, Chapelle Russell, Raymond Calais
When the Buccaneers agreed to terms with Tom Brady they also took on the challenge of surrounding him with as much talent to win now as possible. They did that with this draft class. Tristan Wirfs was the last of the elite tackle prospects taken, but was my No. 1 offensive tackle in the draft. With all the weapons Brady has in Tampa, he won't need much time in the pocket, but Wirfs will still make his life a lot less stressful. Not only did the Bucs add a new starter on the offensive line, but Antoine Winfield Jr should project as their new starting strong safety. The Buccaneers secondary was starting to find its groove towards the end of the season, and they are banking Winfield will help maintain that momentum into 2020. Ke'Shawn Vaughn gives them some depth at the running back position now that Peyon Barber is part of the Washington Redskins. My favorite pick from this class was Tyler Johnson, receiver from Minnesota. Johnson was a receiver who had a productive career, and had a 2nd-3rd Round grade in my rankings, but the Bucs were able to nab him in the 5th Round. For the first time in a long time Tom Brady has a class of impactful rookies to mentor for the future.
B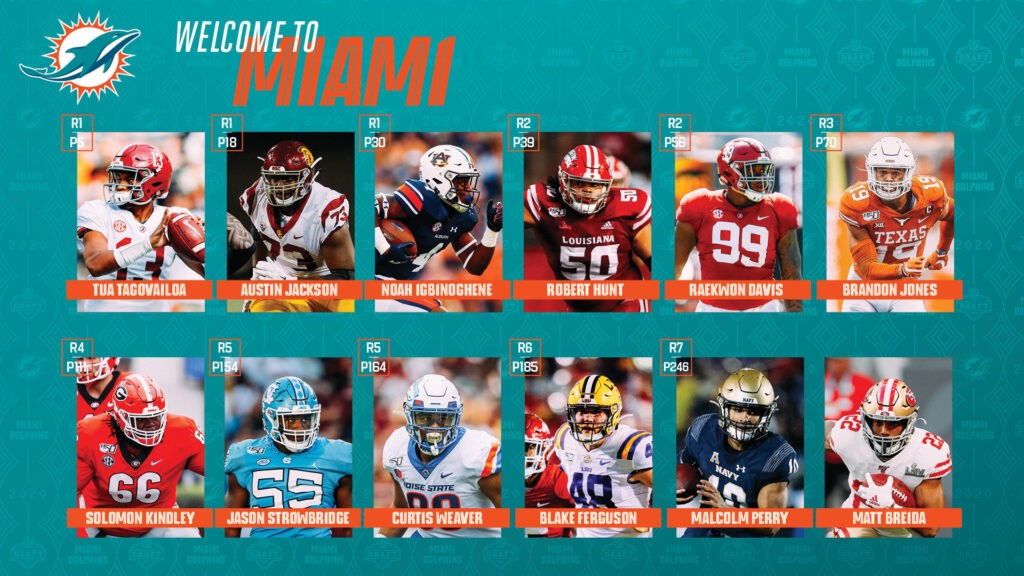 11. Miami Dolphins
Tua Tagovailoa, Austin Jackson, Noah Igbinoghene, Robert Hunt, Raekwon Davis, Brandon Jones, Solomon Kindley, Jason Strowbridge, Curtis Weaver, Blake Ferguson, Malcolm Perry,
The Dolphins had a plan for the 2020 NFL Draft, and it was obvious. Grab Tua, and insure him becoming a franchise quarterback with the blocking up front he needs. Grabbing lineman throughout the draft like Austin Jackson, Robert Hunt, and Solomon Kindley will all help assure Tua the best chance to make progress in his NFL career. Personally, I would have grabbed different offensive linemen for those roles, but I can't argue with who they did take. The Miami offensive line will look completely different next year and will have a lot of depth as most of these players, including free agent Ereck Flowers, play multiple positions on the offensive line.
All off season the Dolphins have been thinning out their defensive line, so to see them take as many defensive lineman as they did, didn't surprise me. What surprised me are the players they were able to select late in the draft. Curtis Weaver is one of my favorite players in the entire draft, and was my No. 2 EDGE prospect behind Chase Young this year. To take him at the end of the 5th Round is just mind boggling to me. Raekwon Davis is going to be a monster alongside Christian Wilkins. I think Davis is a high floor defensive tackle that possesses a lot of talent. There are only so many people his size, with his athletic ability, if he can tie it all together he will be well worth the 2nd Round pick used on him. Right before they drafted Curtis Weaver, they actually selected North Carolina edge rusher Jason Strowbridge. Like Weaver, he made his impact off the edge, standing up and putting his hand in the dirt. Cameron Wake and Charles Harris are out, and now the Dolphins look towards rookies to set the edge in 2020.
B+
12. Cleveland Browns
Jedrick Wills Jr, Grant Delpit, Jordan Elliott, Jacob Phillips, Harrison Bryant, Nick Harris, Donovan Peoples-Jones
From top to bottom the Cleveland Browns finished with yet another promising draft haul. Wills Jr was my fourth tackle overall, but still looks to be the new blindside protector to Baker Mayfield. Another talented LSU defensive back fell to the Browns in the second round, and is someone I viewed as a Top 25 selection. Same with Jordan Elliott. Grabbing those three in the first three rounds is the best case scenario in my eyes. Harrison Bryant gives the Browns a tight end trio with David Njoku, newly paid Austin Hooper. I could see people not liking this pick, but I personally think this just means they aren't too confident in Njoku at this time. Nick Harris and Donovan Peoples-Jones were some of the most talented players selected in Day 3, capping off a long list of potential impact rookies. Jacob Phillips was a reach in most peoples eyes, giving them pretty much the only knock on this class.
B+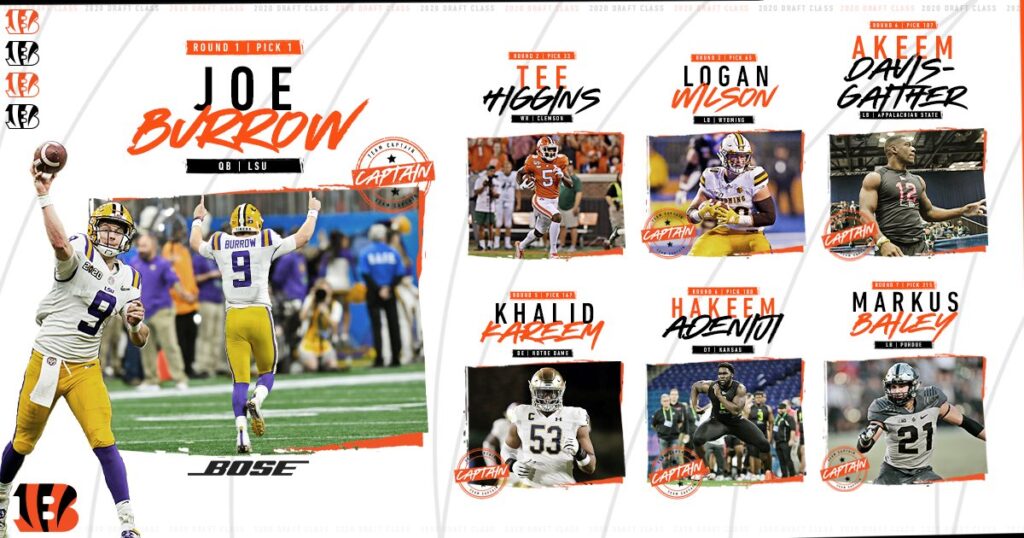 10. Cincinnati Bengals
Joe Burrow, Tee Higgins, Logan Wilson, Akeem Davis-Gaither, Khalid Kareem, Hakeem Adeniji, Markus Bailey
Obviously when you draft a quarterback like Joe Burrow, you're immediately feeling happy with your draft, but to grab a receiver like Tee Higgins to pair with him makes it even sweeter. Higgins was a receiver that had 1st round tape but a spotty NFL Draft process caused him to slide in this deep receiver class. Logan Wilson was a big riser, and had potential to go Round 2. He brings in a skill set that can help the Bengals transition away from the Post-A.J. Green era. With the Bengals issues at linebacker over the past few years, tripling down with Davis-Gaither and Markus Bailey gives them a wide range of skill sets to work with. I viewed each one of these players as potential starting linebackers.
B+
9. Carolina Panthers
Derrick Brown, Yetur Gross-Matos, Jeremy Chinn, Troy Pride Jr, Kenny Robinson Jr. , Bravvion Roy, Stantley Thomas-Oliver III
It is obvious the Carolina Panthers are pretty confident with their offense going forward considering they used all seven of their picks on the defensive side of the ball. Derrick Brown is exactly what Carolina needed, and will be the perfect trend setter in Matt Rhule's new defense. You grab a guy like Gross-Matos to throw opposite side of Brian Burns, and now you suddenly have a young but talented defensive line in Carolina. The Penn State defensive end fits best in a defense like Carolina's 4-3 scheme, and should see significant playing time after the departure of Mario Addison and Bruce Irvin. Jeremy Chinn is basically what Isaiah Simmons would be if he played mainly safety instead of linebacker. He is an athletic freak who I'd love to see in Eric Reid's role. Troy Pride Jr was a solid 4th Round pick for the Panthers. A South Carolina kid, Pride was one of Notre Dame's best defensive backs the past few seasons and should battle for the starting nickel corner position in the pre season.
B+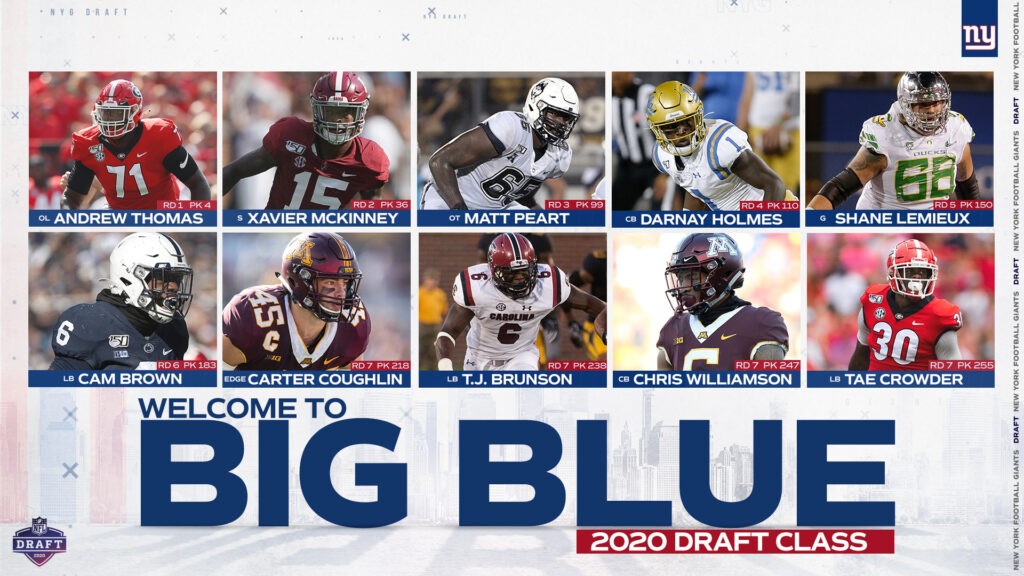 8. New York Giants
Andrew Thomas, Xavier McKinney, Matt Peart, Darnay Holmes, Shane Lemieux, Cam Brown, Carter Coughlin, T.J. Brunson, Chris Williamson, Tae Crowder
People think the Giants might have reached, but Andrew Thomas is a plug in play tackle for New York. He can play right or left tackle, and brings the right attitude to the locker room. Pairing that with someone like Xavier McKinney will help bring the Giants back to a winning culture. McKinney is possibly the best safety in this class, and is a perfect fit for what New York is needing. Defensive Rookie of the Year might be lofty goal, but I wouldn't be surprised if he can become a Pro Bowl safety within his rookie contract. Darnay Holmes gives them someone to specialize in the slot, helping this secondary not be an NFL retirement home. They also bolstered the rest of the offensive line with Shane Lemieux and Matt Peart. Lemieux is a mauler offensive guard that is similar to what they got from Will Hernandez in 2018. I had a 2nd round grade on Shane Lemieux, so picking him up in the 5th is a good selection in my eyes. I also think Tae Crowder has a good chance to make more of an impact than you'd expect from the last pick in the draft.
A-
7. Indianapolis Colts
Michael Pittman Jr, Jonathan Taylor, Julian Blackmon, Jacob Eason, Danny Pinter, Robert Windsor, Isaiah Rodgers, Dezmon Patmon, Jordan Glasgow
Not included, but should be noted, the Colts traded their 13th overall pick to the 49ers for DeForest Buckner. After doing some shifting the Colts finally selected Michael Pittman Jr, and gave Phillip Rivers his version of Mike Williams for their offense. Not only is he a playmaker, but he is someone who you can count on in the offense. They also traded up to select Jonathan Taylor, giving them a dynamic back field with incumbent Marlon Mack. We saw what Jonthan Taylor was able to do with a dominant offensive line with the Badgers, so putting him in an offense blocked by one of the NFLs best seems dangerous.
Malik Hooker was reportedly being shopped around before the 2020 NFL Draft, and then afterwards his 5th year option was declined. Those moves make the selection of Julian Blackmon even more important as it looks like the Colts are looking to find a new answer at free safety. Indianapolis might have extended its championship window by bringing in Phillip Rivers, but only for a season or two. Jacob Eason was one of the few quarterback prospects we expected to take a slide, and the Colts were able to benefit from that, taking him in the 4th Round. Eason can learn behind one of the league's best, while also being coached up by Frank Reich on the sidelines before he is asked to lead an NFL offense. Jordan Glasgow was a walk on to Michigan, but is someone who showed they at least have the football I.Q. to garner a 6th Round selection. Jordan has two brothers in the NFL currently, Ryan a defensive tackle for the Bengals, and Graham a center for the Broncos.
A-
6. Jacksonville Jaguars
C.J. Henderson, K'Lavon Chaisson, Laviska Shenault Jr., DaVon Hamilton, Ben Bartch, Josiah Scott, Shaquille Quarterman, Daniel Thomas, Collin Johnson, Jake Luton, Tyler Davis, Chris Claybrooks
In my last NFL Mock Draft I had the Jacksonville Jaguars selecting C.J. Henderson with the 9th pick, but I thought it would be a little too rich for their blood come draft night. I was wrong. The Jaguars took Henderson 9th overall, and hope to have found their replacement for Jalen Ramesy in that pick. With the second 1st Round pick they selected outside linebacker, K'Lavon Chaisson. The Jags and edge rusher Yannick Ngakoue have been going back and forth between contract and trade demands, and bringing in Chaisson should help make the move a little easier. Laviska Shenault Jr's game is electricity in a bottle, and is someone that just needs to get the ball in their hands to be a threat. If it weren't for some injuries, Laviska would have been another 1st Round receiver, but the injuries are a little concerning. If healthy, I believe Shelnault and Chark can be a very good one/two punch.
Shaquille Quarterman is the first Miami Hurricane selected by the Jaguars since 2006. He was a leader of that Canes defense, and gives the Jags some depth at linebacker. The Jaguars now have one of the tallest wide receivers in the NFL in Collin Johnson. He is 6'6 which means he is an immediate red zone threat, and gives the Jags just a little more cushion at the receiver position. Jacksonville added three cornerbacks in this draft class, but one of them most likely will make the strongest impact as a return specialist. Chris Claybrooks said he is ready to "cut loose and show the Jacksonville Jaguars his speed" and that he is ready to make plays any way possible.
A
5. New York Jets
Mekhi Becton, Denzel Mims, Ashtyn Davis, Jabari Zuniga, Lamical Perine, James Morgan, Cameron Clark, Bryce Hall, Braden Mann.
No more seeing ghosts for Sam Darnold. The Jets went out and took Mekhi Becton to help get him protected for the next 4 to 5 seasons. His tape is violent and dominating, as you'd expect from a 6'7, 355 lb offensive tackle. Now that Darnold can go through his progressions, they gave him a new target to throw to. Denzel Mims was the NFL Combine darling, running a 4.38 and jumping 38.5 inches at 6'3 & 207 lbs. Ashtyn Davis is a track star turned NFL player, and has obviously picked up on the game fast. The Jets recently have been shopping Marcus Maye, so it looks like the faith the Jets have in Davis could be strong. Jabari Zuniga was one of the top pass rushers in the SEC when he was healthy, but you have to stay on the field to be dominant. At one point he led the SEC in sacks last year before falling back due to injury, and I think that is worth a 3rd round flyer to me.The entire draft I knew that whichever team selects Bryce Hall would be walking away with one of the best steals in the class. If it wasn't for an ankle injury costing him his senior year at Virginia, Hall most likely would have been a 2nd Round pick. Due to the injury, the Jets took him 158th overall in the 5th Round. James Morgan seems very boring, but the Jets struggled without Sam Darnold last year and I don't blame them for looking for a little more insurance after something like that. Overall, the Jets did a very good job at trying to set their young quarterback up for success early.
A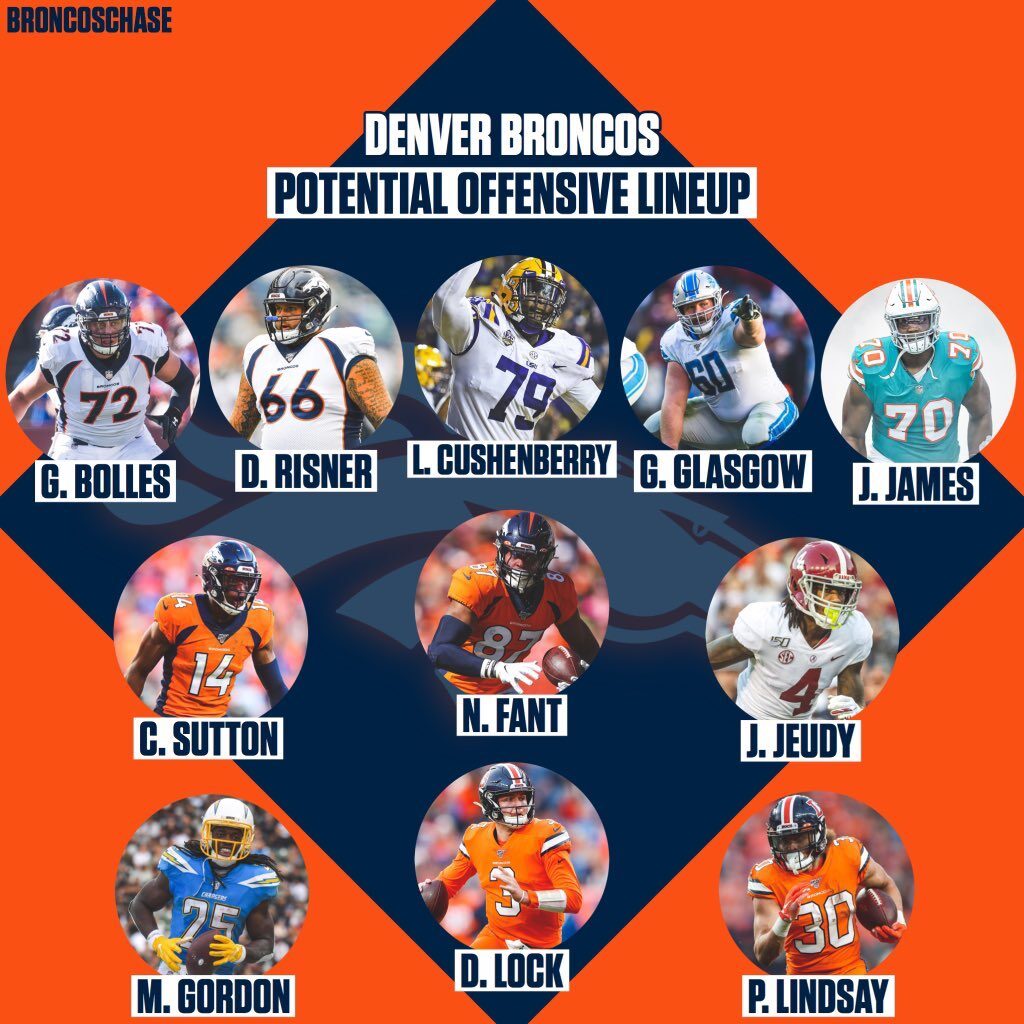 4. Denver Broncos
Jerry Jeudy, KJ Hamler, Michael Ojemudia, Lloyd Cushenberry III, McTelvin Agim, Albert Okwuegbunam, Justin Strnad, Netane Muti, Tyrie Cleveland, Derrek Tuszka
The Broncos just put some NOS into their offense with their 2020 NFL Draft class. Not having to trade up to select Jerry Jeudy allowed them to pair him with KJ Hamler. Both receivers are YAC monsters and will make Drew Lock's job so much easier. Not to mention Tyrie Cleveland as well who will most likely be a return specialist but still gives this receiver core even more speed. Last year they selected Noah Fant, who ran a 4.5 40 yard dash at 6'5 245 lbs. This year they decided to add another athletic tight end in Albert Okwuegbunam who ran a 4.49 40 yard dash. Lloyd Cushenberry projects to be the starting center for the Broncos, but they also got a potential starting guard in Netane Muti. The Fresno State guard was one of my top interior offensive linemen in the draft class, but does have a few bad tendencies Denver will have to address. If they fix him, the running lanes for Lindsay/Gordon will be huge.
A
3. Baltimore Ravens
Patrick Queen, JK Dobbins, Justin Madubuike, Devin Duvernay, Malik Harrison, Tyre Phillips, Ben Bredeson, James Proche, Broderick Washington Jr, Geno Stone
As a Ravens fan, I was definitely disappointed when the Chargers traded back into the 1st round to take Kenneth Murray, but Patrick Queen is 1b. Inside linebacker was a big question mark last year for the Ravens, and Queen adds a play maker to the position. His coverage skills are something that really interest me, and pairing him next to Malik Harrison is perfect. Harrison is a little more on the classic linebacker build and will help the Ravens defend the run. Madubuike is a high floor defensive tackle that'll make life a lot easier on those new linebackers. He can Devin Duvernay was someone I wanted the Ravens to target all off season, and James Proche is basically a clone of him too. No more drops in important games. The fact that they were able to just take J.K. Dobbins because they couldn't help themselves in the 2nd round is just icing on the cake. When i scouted Dobbins, I saw a weird combination of Mark Ingram, and Ray Rice, so for him to fall to the Ravens just seems too perfect.
A
2. Minnesota Vikings
Justin Jefferson, Jeff Gladney, Ezra Cleveland, Cameron Dantzler, D.J. Wonnum, James Lynch, Troy Dye, Harrison Hand, K.J. Osborn, Blake Brandel, Josh Metellus, Kenny Willekes, Nate Stanley, Brian Cole II, Kyle Hinton
The Vikings lost a lot of key pieces to their team this off season, but did a great job at finding replacements through the 2020 NFL Draft. The Eagles controversially took Jalen Reagor over Justin Jefferson, allowing the Vikings to pluck him right after. Personally I like Reagor more overall, but the role Jefferson is going to be asked to fill is perfect for him. If all things go well for Jefferson, I could see him being an OROY candidate. Not to mention they had Jeff Gladney fall past the Falcons and the Raiders, giving them probably the best 1st Round in this year's draft. Gladney was my 4th best cornerback, and is someone who will step in Day 1 for Minnesota. Ezra Cleveland is a raw tackle prospect, but until they get an answer on the outside, I like them using an early pick on one. Cameron Dantzler fits the mold of Xavier Rhodes, so it makes sense for the Vikings to find interest in him. In 568 defensive snaps throughout Dantzler's career, he allowed just 36 catches for 459 yards. They got a lot of underrated talent to add depth to their defensive line. James Lynch and Kenny Willekes are prospects I think will do well under Mike Zimmer. The Vikings were able to grab value, impact players, and depth all in this draft class. Simply knocked it out the park.
A+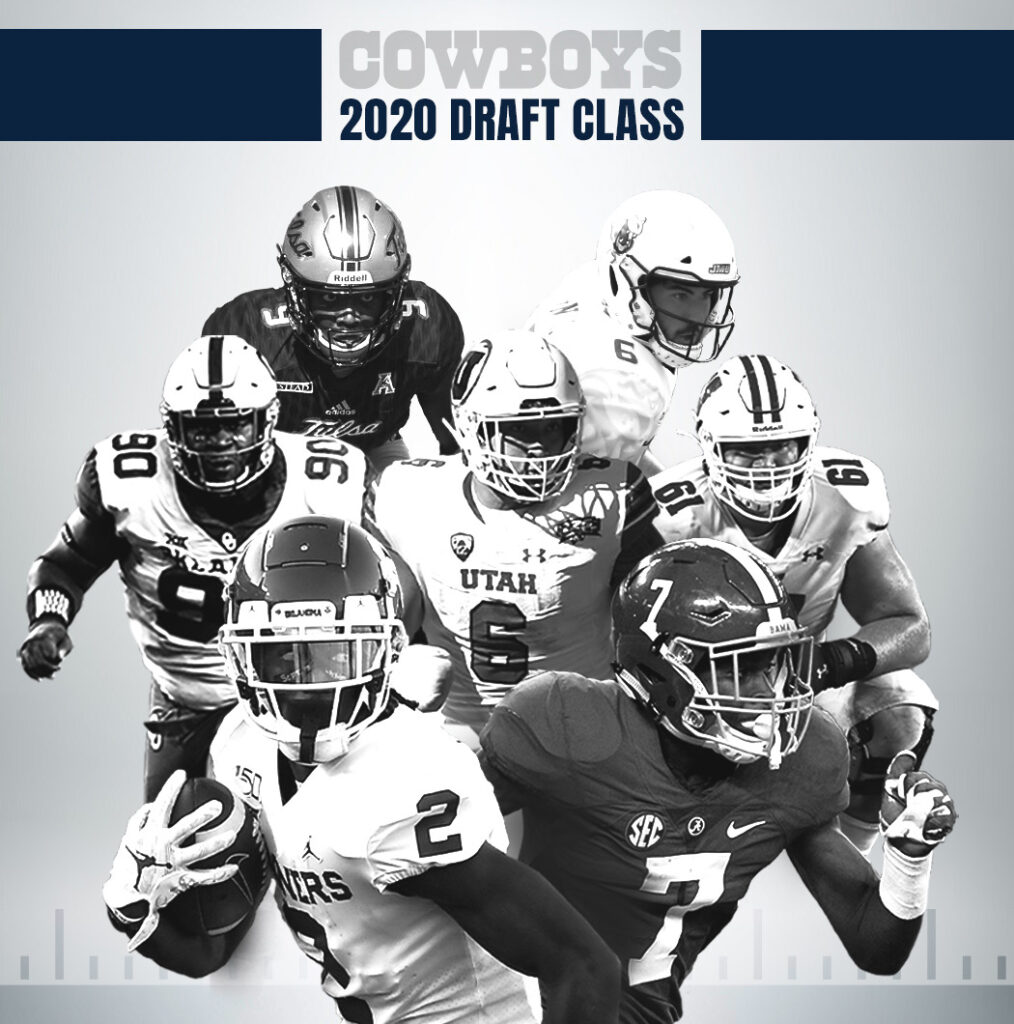 1. Dallas Cowboys
CeeDee Lamb, Trevon Diggs, Neville Gallimore, Reggie Robinson II, Tyler Biadasz, Bradlee Anae, Ben DiNucci
For the sake of the Dallas Cowboys, Jerry Jones needs to draft from his $200M yacht more often. CeeDee Lamb was a blessing from the football gods, and fell past Las Vegas and Denver. This will really give Dak no excuses to produce wins to back up those numbers. Trevon Diggs could very well have been the Cowboys 1st Round pick if Lamb hadn't fallen, and could give the Cowboys secondary a spark to produce some turnovers. Just like with Lamb, Neville Gallimore falls right into their lap too, but what makes this draft so great is the depth.The Cowboys were able to pick up Tyler Biadasz and Bradlee Anae in the 4th and 5th rounds, who I had a 1st round and 2nd round grade on respectively. Their once dominant offensive line loses a lot of juice when Tyron Smith has to battle back injuries, and when Travis Fredrick retired early, things were looking south for the unit. Biadasz will most likely be the Day 1 starter at center, but can play offensive guard too if needed. Bradlee Anae was another prospect I expected to be gone by the 3rd Round, let alone Day 3. For all these reasons, I say the Dallas Cowboys are the 2020 NFL Draft winners.
A+