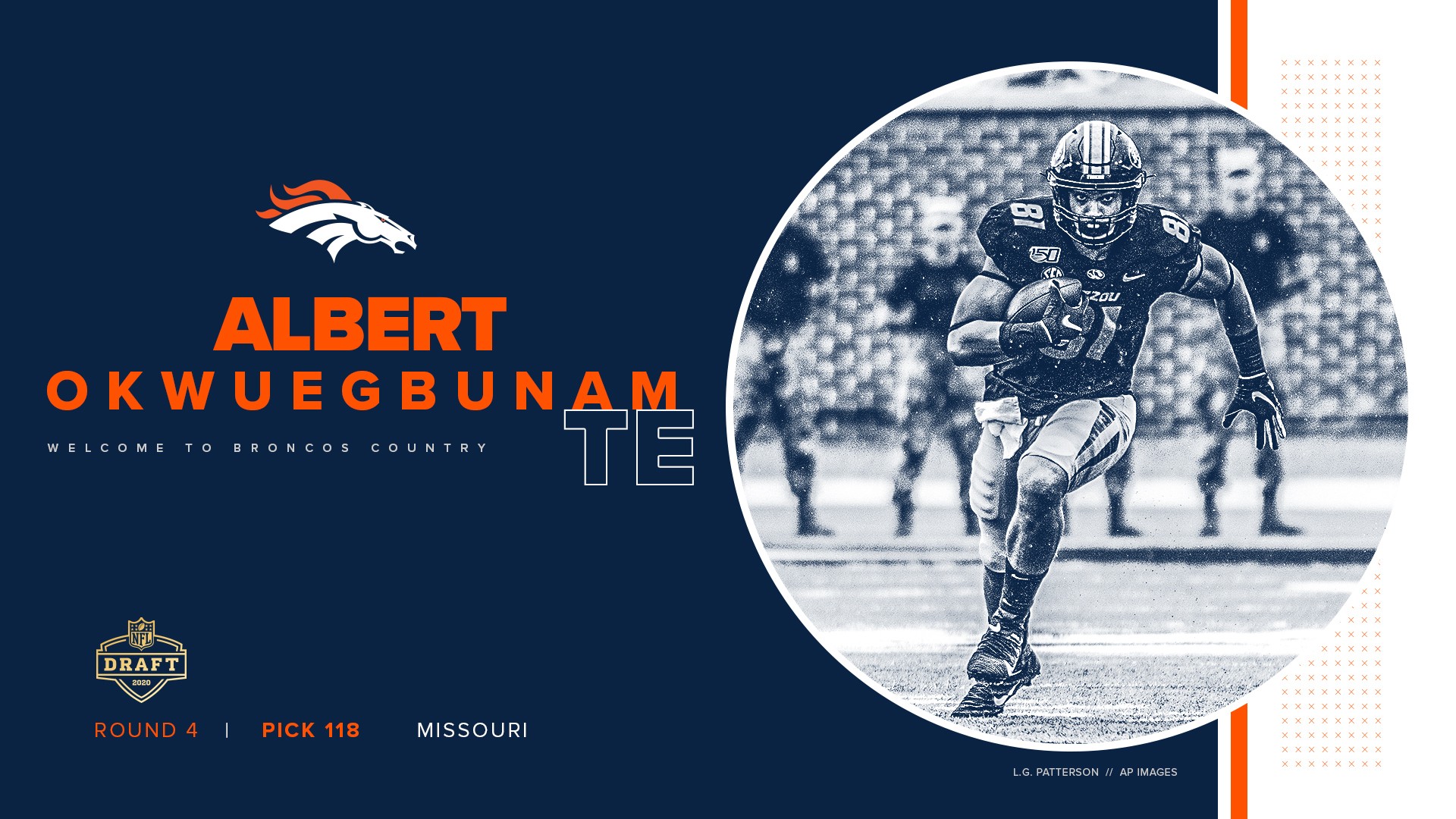 Albert Okwuegbunam
#1 Overall Tight End by Football Addicts
Born: April 25th, 1998 (21 Years Old)
Height: 6'5
Weight: 255 Lbs
Position: Tight End
University: Missouri
About Albert
Albert grew up in Springfield, Illinois and went to Sacred Heart-Griffin High School. Even though he was a 6'5, 230 Lb high schooler, he would line up at wide receiver while playing for the Cyclones. In 2016, 247Sports had him rated as a 3-star tight end, and 30th best tight end in the country. After receiving offers from Cincinnati, Iowa State, Michigan State, and Minnesota he would commit to the University of Missouri on Sept. 19th, 2015.
His freshman year he would redshirt, but as soon as he would hit the field in 2017 he would set the tone for his breakout season. His first game he has two catches for 51 yards and a touchdown against Missouri State. Albert-O would finish his redshirt freshman campaign with 29 catches for 415 yards and an SEC leading 11 touchdowns. He led all tight ends in touchdown catches, as well as all freshman receivers, and to cap it all off he earned Second Team All-SEC. The Tigers would finish 7-6 after going on a six game winning streak to end the season and get a bid in the Texas Bowl.
After his fantastic redshirt freshman season Okwuegbunam would continue to prove he is one of the nations top tight ends. Against Georgia he would grab nine catches for 81 yards, and also record six catches for 159 yards and three touchdowns in a shoot vs Memphis. He finished the season with a total of 43 catches for 466 yards and six touchdowns.
With Drew Lock gone, and new quarterback Kelly Bryant in, Missouri struggled to find consistency on offense. Not only would Okwuegubnam have his worst season out of the three, but the overall team would only finish 6-6. He finished the season with 26 catches, 306 receiving yards and six touchdowns in 2019. Their head coach Barry Odom was immediately fired after their season ended, and Albert would declare for the draft via Twitter on Dec. 2nd 2019.
Strengths and Weaknesses
Strengths
Okwuegbunam is someone that can be moved all across the field due to his athletic ability. Line him up as a traditional tight end, or flex him out into the slot, or even further to create mismatches all game long. His straight speed is going to be a problem for defenders, ran a 4.49 in the NFL Combine. I love to see his blocking improving year to year, and flashes the strength to be an in-line blocker.
Weaknesses
He needs to become a better blocker in order to be the perfect tight end prospect. He has the size to be a blocking tight end, but Missouri's offense rarely asked him to do so. This past season I saw some positive trends for his blocking, he just needs to work on making it more constant and he will be a true monster. His route running needs to become more precise to become an efficient receiving threat. Can be bumped and pushed out of a route too often.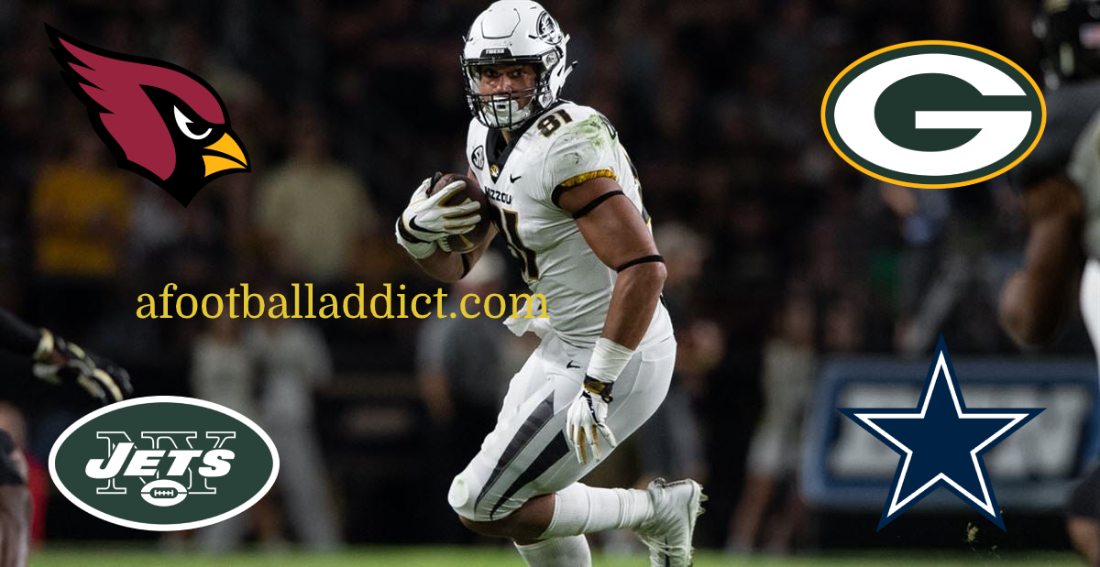 NFL Draft Projection/NFL Player Comp
NFL Draft Projection
The need for a tight end isn't very strong throughout the NFL, especially when you see teams like the Seahawks, and 49ers, and Ravens have the crazy depth they do. On top of that, this class is really stacked at almost every other position, so the tight ends will get the short end of the stick come April.
Now that the Bengals have their guy in Joe Burrow they need to add someone to make his life easier. I wouldnt be surprised if no tight ends are selected in the 1st round, so if they could grab him with their 33rd overall pick they could get a real play maker for them in the 2nd round. Tyler Eifert is a free agent again, and probably not worth the money to bring back, so bring in Okwuegubnam to be Burrow's safety net.
NFL Player Comp
From 2011 to 2013 Texas Tech had a mismatch monster tight end named Jace Amaro. He ran a 4.7, was 6'5 265 Lbs, and was a monster in Texas Tech's air raid offense. I believe Albert Okwuegubnam could have a more steady NFL career than Amaro but the similarities between the two are massive.
Missouri and Texas Tech's offense are very close to each other, commonly using their tight end in the slot and going four wide. Okwuegbunam and Amaro are very close in size, and their athletic ability makes them really just giant receivers. Most importantly, they both struggled when coming to blocking. I believe Albert is a little bit better of a blocker already; which is why I don't think he could fade out as easily as Amaro.