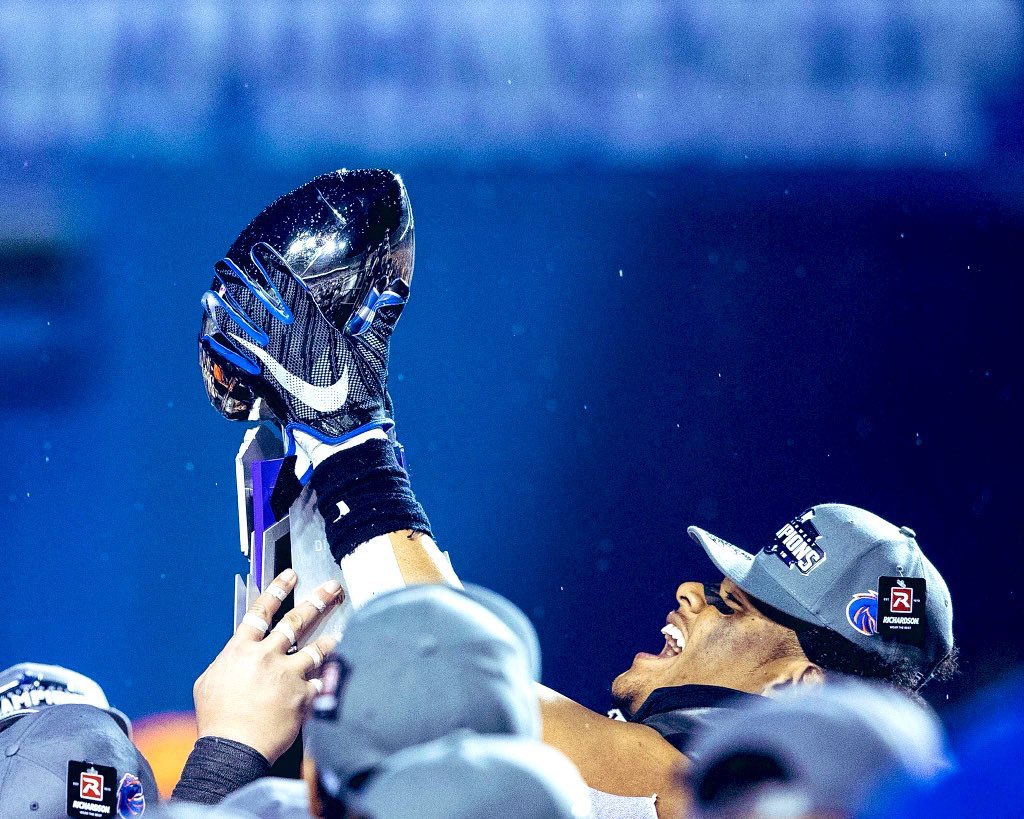 Curtis Weaver
#2 Overall Defensive End by Football Addicts
Born: August 3rd, 1998 (21 Years Old)
Height: 6'3
Weight: 265 Lbs
Position: Defensive End/Edge
University: Boise State
About Curtis Weaver
During the process of gathering names and information for the 2020 NFL Draft I stumbled upon Curtis Weaver, and thus became my 1st 2020 NFL Draft crush. The California native was a 3-star prospect, and only received offers from Nevada, New Mexico, Duke, Boston College, and of course Boise State.
Weaver redshirted his true freshman season (2016), but in 2017 he would play all 14 games for the Broncos mainly at defensive end. Recording 33 tackles, 13 for a loss, 11 sacks and even had a pick and a touchdown. At the end of the season the Broncos would be 11-3, and Weaver was selected to the USA-Today Freshman All-American Team and the All-Mountain West Team.
Though his sack numbers would drop during his sophomore campaign (9.5), he still managed to increase the amount of tackles (43) and tackles for loss (15) from his previous season. In just two seasons Weaver would record the 6th most sacks in Boise State history with 20.5. Boise State would go on to finish their season at 10-3, and unfortunately would have their bowl game cancelled due to weather.
His junior season would continue to be filled with tackles for losses and sacks, surpassing Chris Wing for 2nd in career sacks for the Broncos. Weaver was 5th in the nation with 13.5 sacks, and broke the Mountain West career sack record with 33.5 sacks. He would finish the season with 52 total tackles, 19.5 tackles for loss, one interception and one forced fumble. The Broncos went 12-2, and got a Las Vegas Bowl big but were smacked by Washington 38-7. Curtis Weaver sat out that game.
Strengths and Weaknesses
Strengths
One of the purest pass rushers in this draft class, and seems to win almost every rep he has on the field. NFL teams will love his assortment of pass rush moves, all of which have helped break up offensive plays before. He pops off the ball and gets after the quarterback with quickness and relentlessness. While its not going to be his strong suit, when asked, Weaver can drop back into space to cover the flats or short coverage.
Weaknesses
Being in the Group of 5 can make Weaver be somewhat lazy at times due to the pure dominance he has over some tackles. As of right now he doesn't need to use much more than his speed and strength to just out power a blocker, instead of applying a type of pass rush move to break free.
His flexibility maybe an issue in the NFL, as he can be guided away from the pocket due to an inconsistent bend around the edge. Once he gets into the backfield, he does disrupt the play but he leaves stats on the field by not wrapping up correctly or just taking a poor angle at the ball carrier.
NFL Draft Projection/NFL Player Comp
NFL Draft Projection
Due to the hype of Chase Young and the disadvantage of playing on the West coast a majority of the time, Curtis Weaver has flown under the radar despite being 2nd in the nation in sacks. Currently, I think Weaver is a mid to late 1st round prospect with the potential to become a Top 10 pick before it's time to draft in April.
I currently have him going 28th to the Baltimore Ravens to help give this team some help rushing the passer. The Ravens got a great year from Matthew Judon last year, and Curtis Weaver would be a great linebacker to pair with him. They do have players like Tyus Bowser and Jaylon Ferguson, but Curtis Weaver would most likely be an immediate upgrade off the edge.
NFL Player Comp
A true edge setter, and can get after the passer not just as a standing outside linebacker but with his hand in the ground too. The success he has getting to the quarterback, and the way he can power past any tackle he has faced is similar to Frank Clark back at Michigan. Not only were most of their numbers pretty similar throughout college, I would expect Weaver to test out in the same range as Clark did back in 2015.