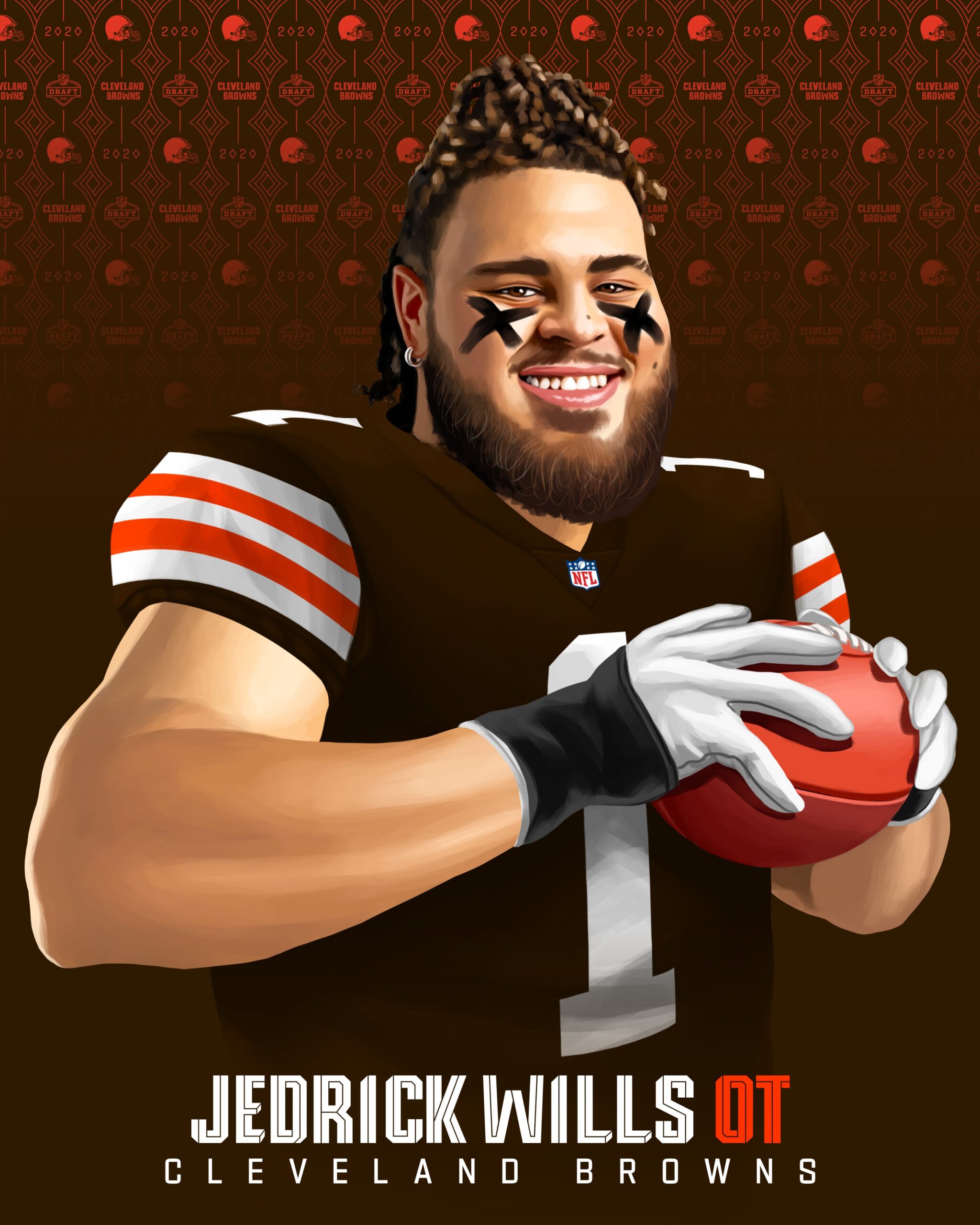 Jedrick Wills Jr
#3 Overall Offensive Tackle by Football Addicts
Born: May 17th, 1999 (21 Years Old)
Height: 6'5
Weight: 320 Lbs
Position: Offensive Tackle
University: Alabama
About Jedrick
In the 2017 recruiting cycle, Wills Jr was 247Sports top rated recruit in the state of Kentucky, and the 7th best in the nation. The 4-star prospect played football at Lafayette High School in Lexington, Kentucky and received offers from LSU, Georgia, Michigan, and many more. On Nov. 15th, 2016, Jedrick would commit to the University of Alabama and join Najee Harris, Jerry Jeudy, and Dylan Moses in a star studded recruiting class.
Even if you're not a starter, when you play for Alabama you can get plenty of reps in blow out victories. Wills would see action in 11 of the games the Crimson Tide played in, getting his first start vs Ole Miss but only recorded 23 snaps. Alabama would accumulate over 360 rushing yards, and over 600 total yards of offense that game. After 11 straight wins, Auburn would upset Alabama in the Iron Bowl 26-14. Even with that loss they were able to sneak into the College Football Playoff, and win it all vs Clemson in the Sugar Bowl.
After getting his feet wet in 2017, Nick Saban would give Wills the starting right tackle job for 2018. He would only allow one sack, and one QB hit as a sophomore, foreshadowing his elite level of pass blocking. The Crimson Tide would set all kinds of single season passing records, and would crush their opponents by an average of over 32 points a game leading into their rematch vs Clemson. This time Clemson would come out with the upper-hand, and beat Alabama 44-16 in the National Championship.
Jedrick Wills really flashed onto the scene this year for draft scouts after many dominant performances in 2019. His blocking success rate was 99%, earned First Team All-SEC honors, 2nd Team All American, and blocked for the nation's 2nd highest scoring offense. The Crimson Tide would roll through their schedule until losing a close battle vs No. 2 LSU. The week after that loss they would lose their starting quarterback, Tua Tagovoiloa, and seemingly lose the magic of their season with it. After suffering another close loss against their rival Auburn, Bama would face off against Michigan in the Citrus Bowl.
Strengths and Weaknesses
Strengths
The first thing that pops out to me about Wills is his aggressiveness at the line of scrimmage. The dude moved Derrick Brown around like he was a Top 10 talent in this draft class too. He doesn't wait for his defender to come to him, instead he will go out and force the attack. Strong punch off the ball. In pass or run blocking, Wills dominates his defender a majority of the time, and takes him out the play completely.
Quick feet allow him to be a phenomenal pass blocker. Dominated SEC pass rushers, keeps his base set and doesn't ever get twisted up with his steps. He loves getting to the second level and laying the smack down on his defenders. Gotta love a tackle that eats his pancakes.
Weaknesses
You would like to see him use his hands better. Sometimes he doesn't get good control because his hand placement can be off, and not give him the best control. Didn't log any snaps at left tackle while at Alabama, so it is yet to be known how well he would fair there. Outside of that Wills is a very clean prospect, so if you need a left tackle you might be taking a little more of a risk taking Wills over Becton or Wirfs.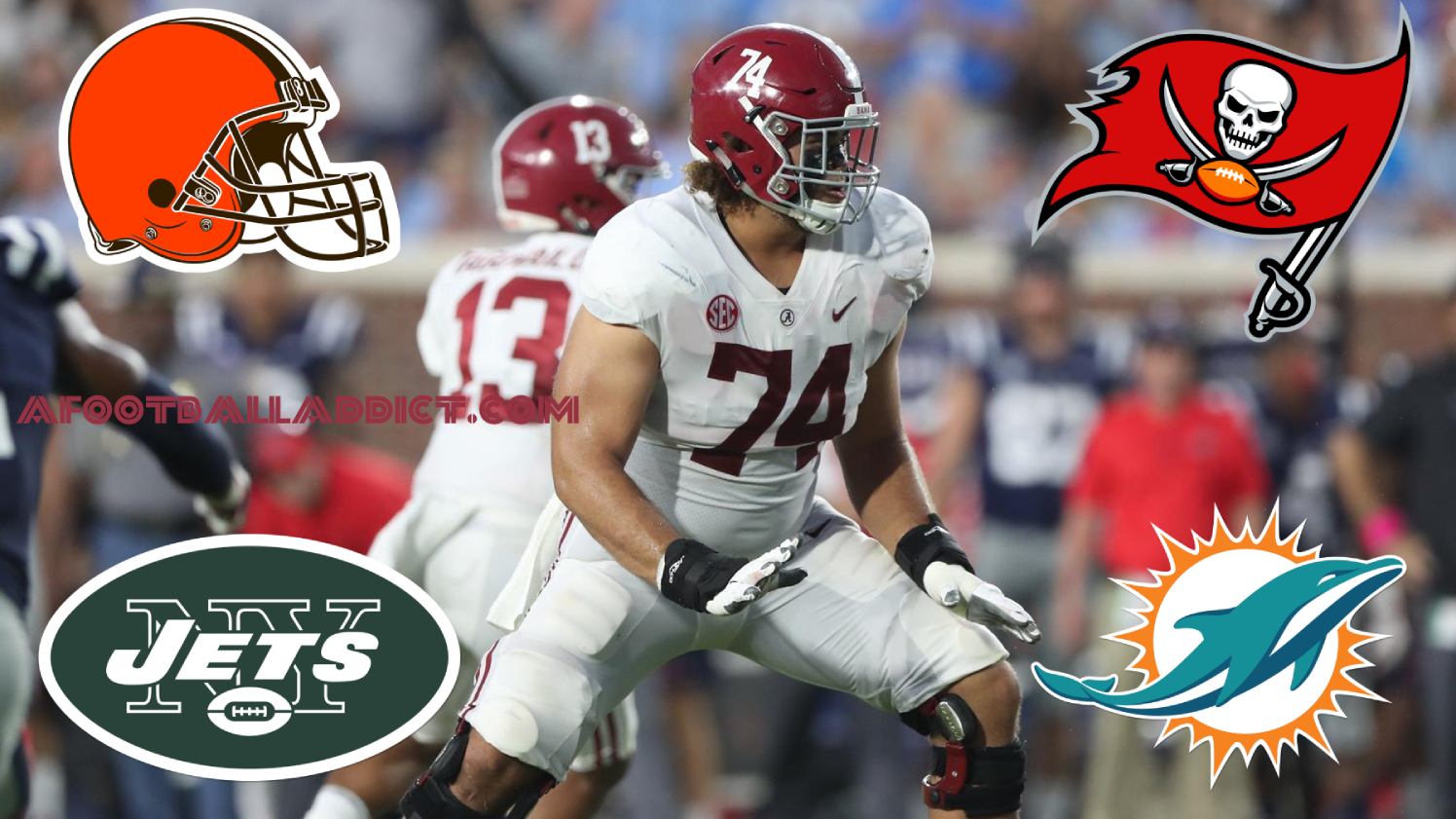 NFL Draft Projection/NFL Player Comp
NFL Draft Projection
It's a good time to be an elite tackle prospect as literally almost every team in the Top 10 could use an upgrade at the position. The Giants, Cardinals, and Browns are all strong candidates to use their 1st Round pick on a tackle. Jedrick is right outside my Top 10 on my NFL Big Board, sitting at 11th overall.
The Browns need help at offensive tackle as Greg Robinson is a free agent, and probably not good enough to bring back anyway. Jedrick Wills will hopefully allow Baker to process the field better and worry about one less defender coming to take his head off. Whether they want to continue with what worked last year (rushing the ball) or try and open the playbook up for Mayfield to throw it more, Wills will contribute immediately for the Browns.
NFL Player Comp
Bryan Bulaga is consistently one of the best right tackles in the NFL, and puts up great grades with passing blocking. He is enough of an athlete to slide and punch his defender away from the quarterback. I think if Jedrick Wills can get into the right offense, he will be an anchor for your offensive line for 10+ years. Plus I think Jedrick has a little more dog in him and will attack the second level more consistently. Teams like Cleveland and Arizona should be praying they can draft Wills Jr come April.