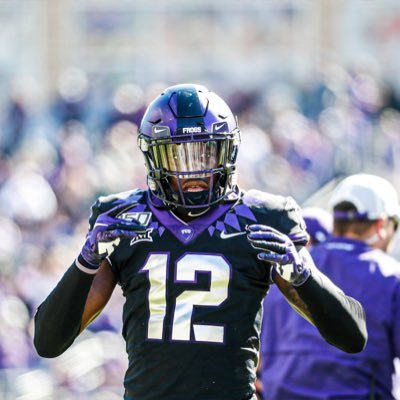 Jeff Gladney
#4 Overall Cornerback by Football Addicts
Born: December 12, 1996 (23 Years Old)
Height: 5'11
Weight: 200 Lbs
Position: Cornerback
University: TCU
About Jeff
Playing receiver and cornerback at New Boston High School in New Boston Texas, Jeff Gladney garned a 3-star ranking from 247Sports and Rivals.com. Gladney had an impressive senior campaign with the Lions, which included being first team all district as a defensive back, the 7-3A Most Valuable Player award, and leading New Boston to the Texas semifinals for the first time ever. He held offers from schools like Rice, and North Texas but ultimately committed to TCU on June 5th, 2014.
As a redshirt freshman, Gladney would start in eight of the 12 games TCU played that year, and showed he was ready to play with the big dogs in the Big-12. He was the only freshman starting in the season opener against South Dakota State, and was in the starting line up for five of the first six games. Gladney would finish the season with 46 tackles, and six pass break ups.
Gladney would be named an honorable mention All-Big 12 pick as a sophomore for the Horned Frogs. In 2017 he recorded 28 tackles, two interceptions, five pass break ups, and a touchdown. Against Texas Tech he returned one of his interceptions 94 yards for a pick six, helping them win 27-3. In the Big-12 it is common to see teams to score upwards of 50 points, but TCU was able to hold teams under 24 points nine times in 2017.
He started all 13 games as a junior for the Horned Frogs, and had a very busy season in the process. He finished with 41 total tackles, four for a loss, a sack, two interceptions and 13 pass deflections. He was second in the Big-12 with those 13 pass deflections which helped him earn 2nd Team All-Big 12 honors. Pro Football Focus rated Gladney as the No. 1 cornerback in the Big 12, only giving up a reception every 16.5 plays.
In his final year at TCU, Jeff would become one of the leaders of one of the best defenses in the Big-12. He would finish the season with 42 starts under his belt, the most on the defense for the time. He would back up his leadership by being the best cornerback in the Big-12. At the end of the season, Gladney recorded 31 tackles, one for a loss, and interception and 15 pass break ups (tied for 2nd in the Big-12).
Strengths and Weaknesses
Strengths
Gladney has top end speed, so he can keep up with pretty much any receiver step for step. Good lateral movement, and does a great job working with the receiver while facing the quarterback. I like his quick hips and that he just looks comfortable backpedaling. He can identify the play quickly and is okay with coming up to make the tackle. TCU lined him up on the outside and on the inside vs slot receivers, giving him versatility that some cornerbacks don't have in this class. Due to his ability to play in the slot, I would say he has a high floor in the NFL.
He mainly played in zone coverage at TCU, but he can stick on his receiver if asked. Jeff has long arms and all the skills you'd like in a zone corner. I love his timing. Against Purdue Gladney makes an outstanding interception in the third quarter. He baits the quarterback into a bad pass, and recovers a good amount of space for the takeaway.
Weaknesses
Likes to play press coverage due to his speed, which can cause him to get beat by physical receivers. When blitzing from the corner position, or coming in for run support, he can take questionable angles to the ball carrier. He can be inconsistent when shedding blocks, and has his moments where he is bullied by bigger possession receivers. He did well against Hakeem Butler and Collin Johnson, but definitely had his moments of just being out manned by a 6'5 frame.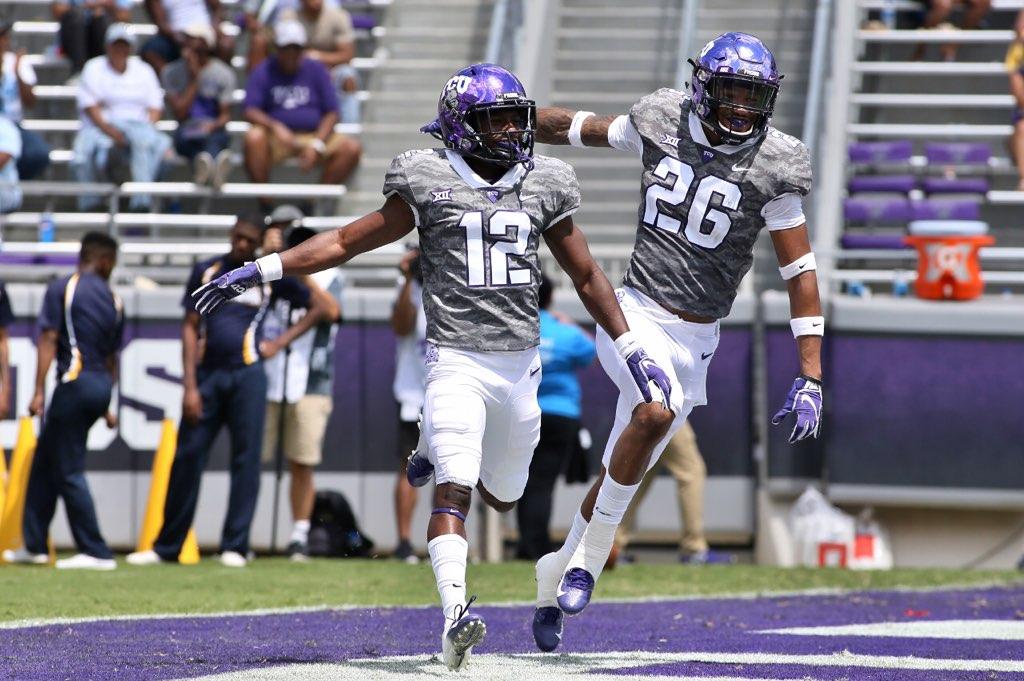 NFL Draft Projection/NFL Player Comp
NFL Draft Projection
I have always viewed Gladney as someone who could be worth a 1st round pick, and has gained a lot of traction in the NFL Draft community. I have seen him anywhere from the 2nd round all the way up to 17th to the Cowboys. I last had him as my 43rd best player on my NFL Big Board, but he has slowly climbed up to 35th. I think that cornerbacks are going to be going early and often in the 2020 NFL Draft, which Gladney will benefit from.
Currently I have Gladney falling into the Kansas City Chiefs hands with the 32nd pick in the 1st round. The Chiefs have a huge need at cornerback, and have needed an upgrade at the position for a few seasons now. Jeff Gladney is a physical cornerback that will fit seamlessly in the Chiefs secondary. Kansas City obviously has one of the most high powered offenses in the NFL, and if they can get studs on the defensive side of the ball too, it's going to be nearly impossible to keep up with them on paper.
NFL Player Comp
Chris Harris Jr was one of the best cornerbacks of the last decade. He has graded out as one the best slot cornerbacks over the past 10 years, and was even PFF's top rated cornerback in 2018. Though he only stands 5'10, Harris has made a career of being physical and playing bigger than he is.
I think Jeff Gladney can offer the same kind of versatility for a defense. I would be comfortable with Gladney in man or zone coverage schemes.They both are smaller guys who don't let that often get in the way of anything. I could see a team like Seattle, San Francisco or Carolina look to draft him late in the 1st or early in the 2nd round.