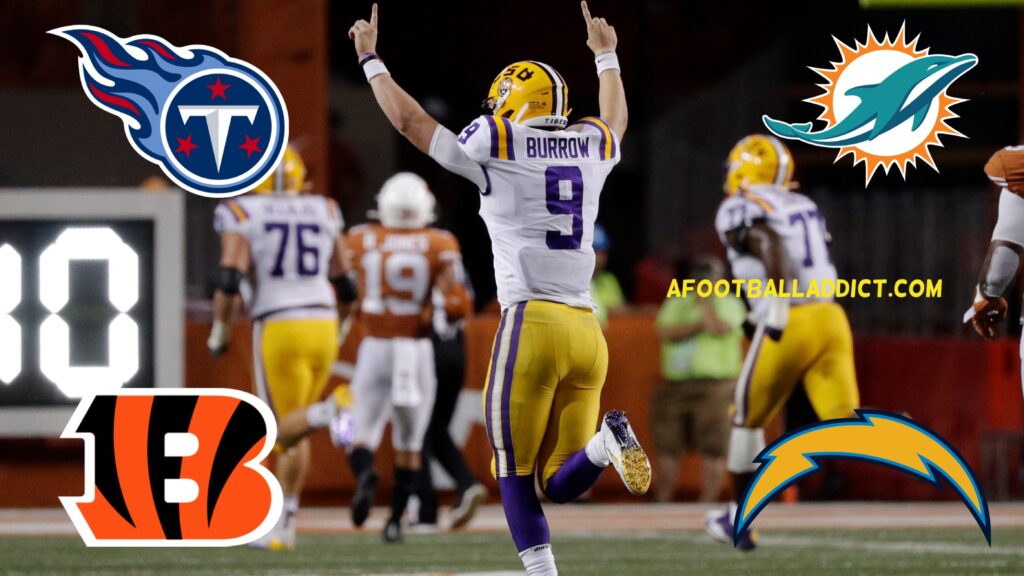 Joe Burrow
#1 Overall Quarterback by Football Addicts
Born: Dec 10th, 1996
Height: 6'4
Weight: 216
Position: Quarterback
University: LSU
About Joe
Joe Burrow's career would really start at Athens High School in The Plains, Ohio. Burrow was a 4-star quarterback, and the 8th ranked dual threat quarterback in the class of 2015. After going 14-1 in his senior year, he was named Ohio's Gatorade Player of the Year and won the Ohio Mr. Football Award. After all that, he would hold offers from Minnesota, Penn State, Oregon, and even was recruited by Lincoln Riley at East Carolina. In the end though Tom Herman would win the recruiting battle for Ohio State, and committed to the Buckeyes on May 27th, 2014.
After redshirting his true freshman year at Ohio State in 2015, Joe would play back up to then starter J.T. Barrett. However he would still play in 10 games throwing 29-39, 247 yards and two touchdowns. Once Barrett graduated it was Haskins, not Burrow, was named the starter next season and he used his graduate transfer and joined LSU.
In his first year in Baton Rouge he was named the starting quarterback, and lead the LSU Tigers to a 10-3 record and a win in the Fiesta Bowl against UCF. Jim Burrow, Joe's father, would state that this game is what turned on the switch for his son to do what no one expected in 2019. Burrow would finish the season with 2,894 passing yards and a 16 to 5 touchdown to interception ratio.
Then Joe Burrow unleashed madness on NCAA defenses all across the nation, from the University of Texas to the University of Georgia, throwing for 5,208 yards and a 55 to 6 touchdown to interception ratio. Those of course would break the SEC records for most passing yards in a single season and most passing touchdowns in a single season. After breaking those records, many said the Heisman race was over, and it was as he would go on to be named the 2019 Heisman Award winner. Along with that he lead the Tigers to a perfect 14-0 record, an SEC West title, and AP Player of the Year, the Maxwell and the Walter Camp awards too.
Strengths and Weaknesses
Strengths
One of Burrow's most popular traits is his leadership and how he never folds under pressure. It shows in his ability to continue fighting for the play, and maintaining his eyes down the field for the pass to set up. His three best QBR games came against 7th ranked Florida, 3rd ranked Alabama, and 4th ranked Georgia in the SEC Championship. He embraces the big lights and his performance against Alabama proved that perfectly. Another very positive trait is his year to year growth as a quarterback overall.
In 2019 you can see that he studied his ass off to learn this system and make it what it was this year. Of course he had great players too, but the ball has to get to them somehow, and he completed nearly 78% of his passes this season (85%+ in three games). Last year he was completing just 58% of his passes. He improved his footwork which could partly explain jump in accuracy.
Weaknesses
His arm talent isn't going to wow you like Patrick Mahomes or Aaron Rodgers, and that could worry some teams considering a similar knock was placed on Andy Dalton. I think this is more inconsistent footwork, and lack of base when throwing the ball.
Burrow tends to throw with just his upper body due tot he fact he is a bigger guy, so he can naturally generation a good amount of throwing power. If he were to use his legs to help push the ball forward, that could answer some of his questions with his deep ball ability. With that being said a lot of the damage Joe can cause is due to his scrambling ability and throwing outside the pocket where that isn't going to be stressed as much.
NFL Draft Projection/NFL Player Comp
NFL Draft Projection
The LSU Tigers have been a top the CFB world pretty much all season now, and that is in large part to Joe Burrow's growth this year. Before the year started he was projected as a 5th-7th round pick, but has performed well enough to skyrocket up everyone's draft boards and is going to be the 1st pick in the 2020 NFL Draft. After transferring to LSU, Burrow is now going to walk away with a Heisman trophy, possibly a National Title, and a heck of a lot richer than he was just 365 days ago.
NFL Player Comp
Joe Burrow is your prototypical drop back quarterback prospect, with a little swagger to him. Many NFL scouts have seemed to compare him to Jared Goff due to his polished passing abilities that he already possesses plus his great decision making. Personally though I think that might be more of his floor than who he reminds me of the most.
I think Burrow is going to be closer to Matt Ryan, as long as the Bengals don't break him first. Joe's ability to make things work out of nothing, break down and understand an offense completely, is the difference between Matt Ryan and Jared Goff for me. Ironically enough Zac Taylor should be giving Burrow just the kind of offense that Ryan and Goff have used to make it to Super Bowls. Now only time will tell.