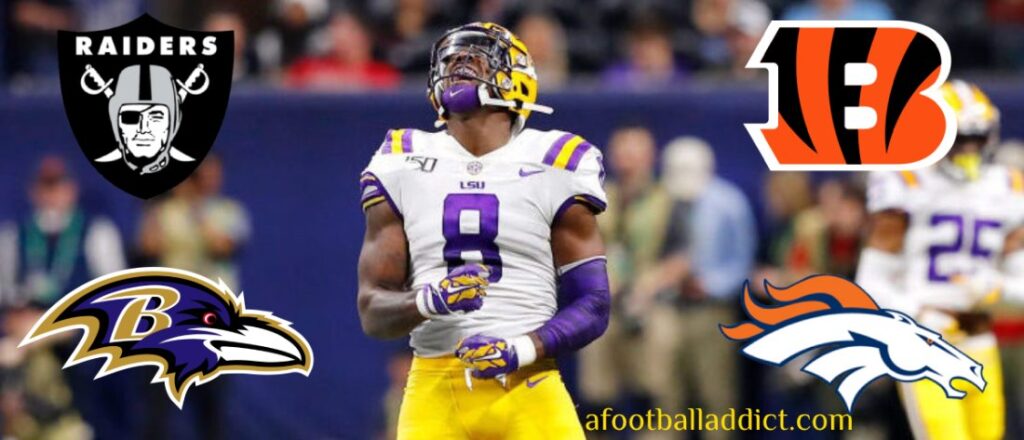 Patrick Queen
#3 Overall Outside Linebacker by Football Addicts
Born: August 13th, 1999 (20 Years Old)
Height: 6'1
Weight: 227 Lbs
Position: Outside Linebacker
University: LSU
About Patrick
Patrick Queen is from Livonia, Louisiana, and attended Livonia High School. Queen would play linebacker and running back for the Wildcats and help them get a 3A State Championship in 2015. 247Sports had him rated as the 12th best player in the state of Louisiana for the class of 2017.
In 2018 Patrick would get a real taste of the linebacker rotation, especially after filling in for Devin White in the 1st half of the Alabama game. He would finish that game with nine total tackles, and two tackles for big losses. Queen would wrap up his sophomore season with 18 tackles in LSU's final three games, putting him at a season total of 40 tackles, five for a loss, and a sack. The Tigers season was up and down, including a 7OT loss vs Texas A&M in the last game of the season. They would finish 10-3 after beating UCF in a close Fiesta Bowl, 40-32.
His promising 2018 would earn him a starting role in 2019, and he would blossom in it. He would record the 3rd most tackles on the defense with 85 tackles, and have 12 tackles for loss with three sacks. As you probably know, LSU rolled through their competition, on the way to a 15-0 National Championship win. Patrick was quoted before the Oklahoma game saying "we are gonna dominate them, I am very confident in what we got.". Many thought he was just giving the media some trash talk, but then the Tigers would go out and put up seven touchdowns and over 500 yards of offense in the first half. In the two games LSU played in the College Football Playoff, Queen recorded 16 tackles, four for a loss and a half sack.
Strengths and Weaknesses
Strengths
Queen is another linebacker that LSU actually has converted from running back, so his athleticism is definitely there. He is physical, and played well against SEC competition. Patrick showed up big when the lights were on him the most. In his games against Clemson, Alabama, Oklahoma and Georgia, Queen made 29 tackles, 5.5 tackles for a loss, two sacks and his only interception.
Good lateral movement and awareness, doesn't get tied up on a blocker often. His speed makes him very appealing in this era of football. Pro Football Focus graded him as one of the best linebackers in coverage throughout 2019. He shows quick decision making; was a big part of that defensive drive that stopped Texas on two back to back 4th and Goal chances. Queen is also one of the youngest players in the class, giving him plenty of time to grow with an NFL team.
Weaknesses
He is undersized for sure, his NFL Combine weight is going to be big for him. They currently have him listed at under 230 pounds, and could use a little bit more size on him. More consistency when tackling in open space. He doesn't fair well in rushing the passer, and if he does get to the quarterback it is normally too late to effect the play. If a lineman does get to him in the second level, he doesn't do well at breaking away from the blocker. Not something that happens too often, normally can react on the play quick enough to avoid it.
NFL Draft Projection/NFL Player Comp
NFL Draft Projection
Patrick Queen could see himself sneak into the 1st round if he puts on a show like Devin White did at last year's combine. The two have a similar skill set, so I wouldn't be shocked by it. I currently have him in the Top 50 of my NFL Draft Big Board, and I have seen him a lot higher. I could see the Ravens, Packers, and Browns all target him towards the end of the 1st round.
If Denver has the chance to take Queen with the 46th pick, they should jump on it. The Broncos need help at linebacker, and while I think he would fit better in a 4-3 defense, he can still play the MIKE role in a 3-4. Queen has plenty of athleticism to attack down the middle and make up for his size.
NFL Player Comp
Queen plays like another former LSU Tiger in Kwon Alexander. The two are 6'1, 227 Lbs, but play a lot bigger than that. Both are undersized, but have great speed and quickness to be great in run support. They also had similar production while they were at LSU (Queen/Kwon). Fluid in coverage, won't be a liability. Very similar production in college, low sacks numbers but able to make plays at the line of scrimmage.
Queen still has to learn some things at linebacker, as he has only been at the position for roughly two years. You love his production growth, more than doubling his stats once being named a starter in 2019. Seeing how quickly he has been able to be productive is a positive sign, and shows you how much potential he has. On top of that, he is only 20 years old, and won't be 21 until the start of the 2020 NFL season.