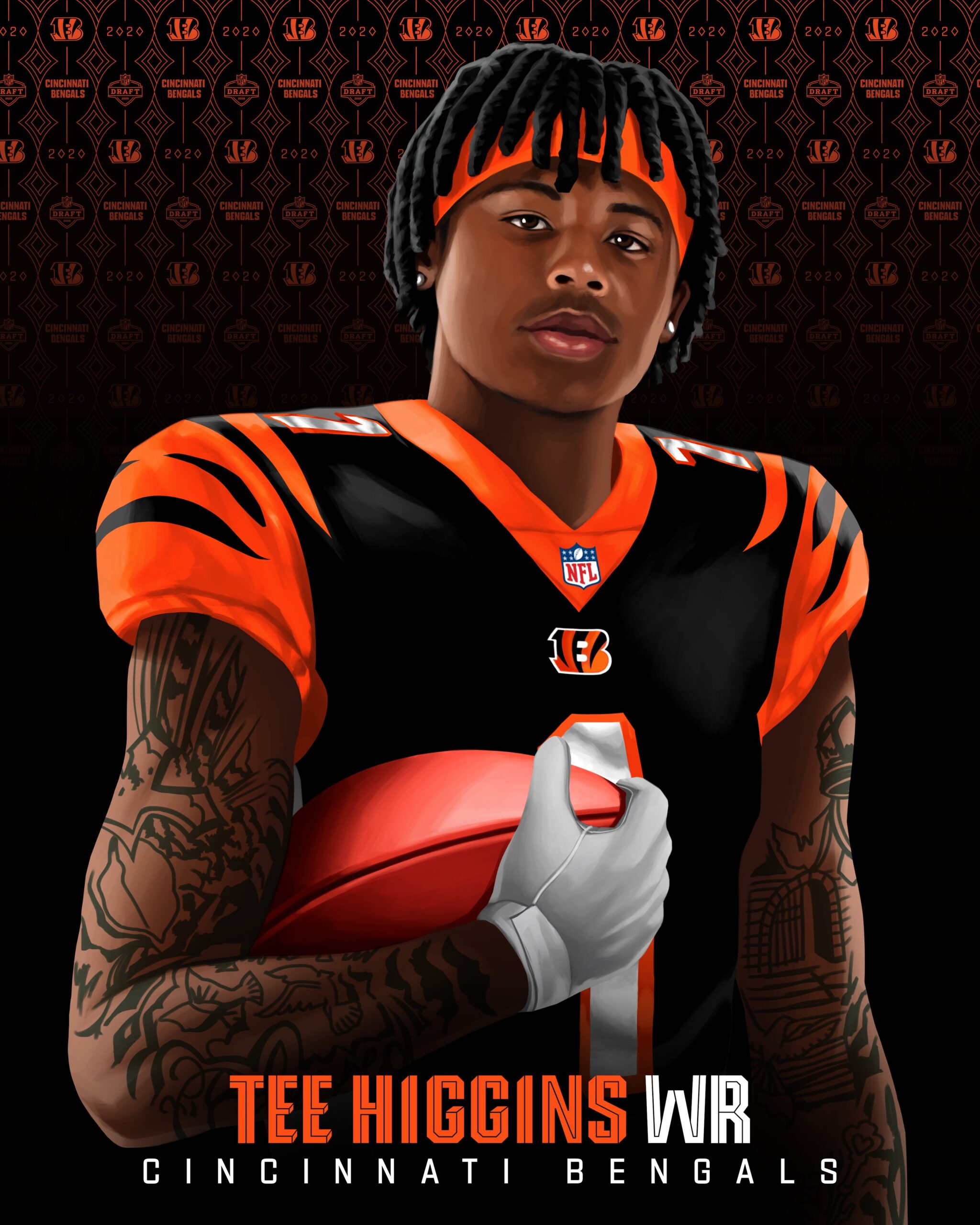 Tee Higgins
#6 Overall Wide Receiver by Football Addicts
Born: January 18th, 1999 (21 Years Old)
Height: 6'3
Weight: 216 Lbs
Position: Wide Receiver
University: Clemson
About Tee
Clemson has recently turned into one of the power house programs in College Football, but it has been a wide receiver factory for as long as I can remember. Tee Higgins was the next in line once he committed to the Tigers on July 4th, 2016. He was regarded as a five star recruit by 247Sports, and Rivals.com, and was the consensus No. 2 receiver in the Class of 2017. He was originally committed to the University of Tennessee but de-committed
As a freshman at Clemson, Higgins played limited snaps behind Deon Cain, Ray-Ray McCloud, Hunter Renfrow and Amari Rogers. Against Citadel Higgins recorded six catches for 178 yards and two touchdowns to help Clemson win 61-3. At the end of his freshman year he would have 17 receptions for 345 yards and three touchdowns. Clemson would find themselves No. 1 in the CFB Playoff polls, but lost to Alabama 24-6 in the Sugar Bowl.
He would follow his promising freshman year with a great sophomore campaign. Higgins would now be the focal receiver of the offense, alongside Amari Rogers and freshman Justyn Ross. He finished the season leading the team in receptions (59) and touchdowns (12), and had 936 yards receiving. The Clemson Tigers would go on to face Alabama in the National Championship, this time annihilating them 44-16. ESPN would put him on the First Team All-ACC list, and Higgins would also get honored to the AP Second Team All-ACC list.
In 2019 the Clemson Tigers were a powerhouse throughout the entire ACC. Higgins helped the Tigers go 13-0 in the regular season with his 59 receptions and a team high 1,167 yards and 13 receiving touchdowns. While he did have a very mild College Football Playoff, he was able to flash his big play ability on a 36 yard touchdown run vs LSU. Even with names like Mike Williams, Sammy Watkins, and DeAndre Hopkins; Tee Higgins finished with arguably a better career than all of them. His 27 receiving touchdowns is tied with DeAndre Hopkins and Sammy Watkins for the most in school history. He is also the only receiver to record double digit receiving touchdowns in consecutive seasons.
Strengths and Weaknesses
Strengths
For starters, Clemson's petagree at receiver is top of the line so it is always a safe bet to go with one. Higgins will go up and get it, and has one of the biggest catch radius' in the draft class. He has strong hands, and makes the catch away from his body and defender. Higgins caught over 88% of his catchable passes with routes over 10 yards over the past two seasons. He had two seasons in which he recorded 12 or more touchdowns, and has a career reception to touchdown ratio of 5 to 1. It is safe to say he is a legit red zone threat early on in his career.
Weaknesses
People are definitely going to be wary considering he didnt work out in the NFL Combine, and we didn't get to see him much in the playoffs either. While his Clemson Pro Day Numbers weren't terrible, they weren't off the charts. His release is questionable, and needs to be worked on to be able to use whatever speed he has.
NFL Draft Projection/NFL Player Comp
NFL Draft Projection
There is a strong possibility that Tee Higgins finds himself as a Day 1 pick in the NFL Draft, but I currently have him just slipping into the 2nd round, and going to the Indianapolis Colts at 34. Tee Higgins is a big body, red zone threat, and has a lot more of a specific role than someone like Justin Jefferson or Laviska Shenault Jr. This is why I have him take a slight slide, but still ending up in a great situation if you ask me.
In my NFL Mock Draft v.9, I have the Indianapolis Colts giving Phillip Rivers his version of Mike Williams for their offense. Rivers has always had big bodied receivers to throw to, which is something the Colts currently lack. If they were to bring in Higgins, not only would he make Rivers feel more comfortable but he would compliment T.Y. Hilton's skill set very nicely.
NFL Player Comp
When you watch Higgins play it is easy to make the comparison to AJ Green due to their frame and play style. But, Green is a former 4th overall pick, who has gone on to be one of the NFLs best receivers in the last decade. That is a lot of expectation for a prospect who might not even go Day 1 come draft night. 
Instead I'd like to point towards Lion's receiver, Kenny Golladay. Not only do they share the same build and play style, I believe Higgins will serve best in a role like Golladay. A receiver who can play like a No. 1 but is best used as a complementary player. Last year he led the NFL in touchdowns and averaged over 18 yards a catch. Through out his career at Clemson, Higgins averaged 18.1 yards a catch and is tied for the most receiving touchdowns in school history.