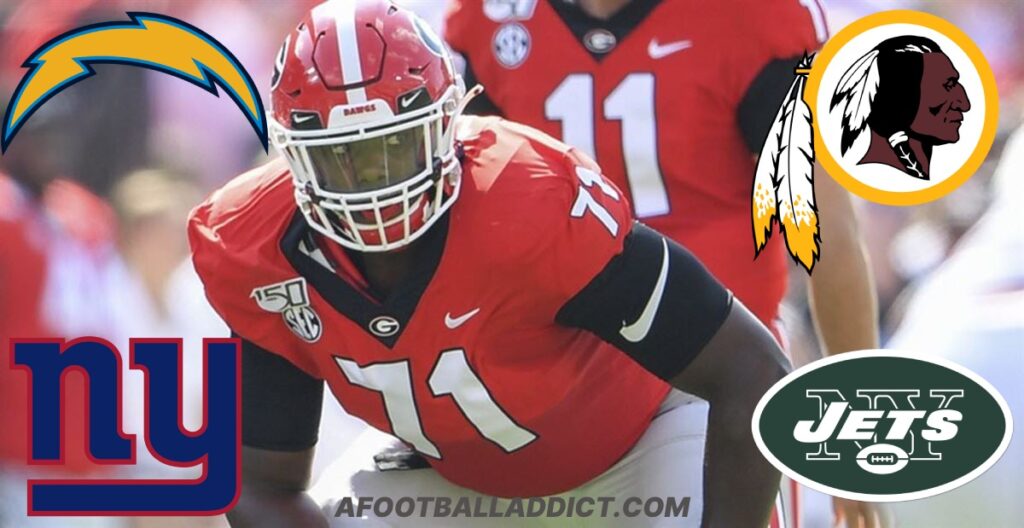 Andrew Thomas
#2 Overall Offensive Tackle by Football Addicts
Born: January 22nd, 1999 (20 Years Old)
Height: 6'5
Weight: 320 Lbs
Position: Offensive Tackle
University: Georgia
About Andrew
Andrew Thomas was born and raised in Lithonia, Georgia and presented his football talents at a young age. Growing up Thomas loved music but had to make a decision on which he would want to spend most of his time on. That decision and hard work would get him selected to 2017 U.S. Army All-American game, and was ranked by all major scouting sites as a Top 5 player in the state of Georgia.
During his freshman season, Thomas would make every single start at right tackle for the Bulldogs and excelled greatly at the position. The Bulldogs would end up going to the CFB National Championship game, and would average nearly 6 yards a rush as a team. At the end of the season Thomas was a Freshman All-American, along with fellow Georgia Bulldog Jake Fromm.
After proving he could hold his own in the SEC Thomas was switched to left tackle but battled an ankle injury throughout the season and was in and out of the line up. He would still manage to play 72% of the offensive snaps against SEC opponents that season.
During this season the Bulldogs have slowed down statiscally on offense, averaging about 50 yards less per game, but still sit at 9-1 and 4th in the CFB Playoff. The offensive line has been struck with injuries all over, which I would say is the biggest factor in the offensive hiccups. After 325 rushing yards in their season opener, Thomas was named SEC Offensive Lineman of the Week, and has started all 11 games for the Bulldogs.
Strengths and Weaknesses
Strengths
Standing at 6'5, and weighing in over 320 Lbs, Thomas checks all the boxes you want in an NFL tackle. He is a smooth athlete, especially for the position, and that benefits his fluid movement against his defenders. He pops off the ball, and bends/moves like a tight end would. Every year he has improved in run blocking and pass blocking at Georgia, which lets me know he has more to offer down the line.
Thomas has the athleticism to play left tackle as a rookie, once again he only allowed one sack in his three years starting in the SEC. We got a good look how he would fair vs NFL level talent when he was against Kentucky's Josh Allen last year. Not only did the Bulldogs win, but I would say the same for Thomas' 1v1 battle against the future 1st rounder.
Weaknesses
One thing he needs to watch is his stance/feet when pass blocking. At times Thomas can let his feet get a little wide, causing him to have an unbalanced stance. If he were to slide his feet back instead of stepping back, he could become a quick, elite pass blocker. You won't get many holding penalties from him, but that is due to his average hands. At times it seems like Thomas is afraid to lock onto his defender and that will allow the defender to slip off his block.

NFL Draft Projection/NFL Player Comp
NFL Draft Projection
I think Thomas should be, and will be the first tackle taken off the board come April. Andrew Thomas is my 3rd best player in this class, and I have him currently going to the New York Giants with the 4th overall pick.
While Jerry Jeudy is a very interesting choice here, I think Andrew Thomas will not just help Daniel Jones progress, but it will give Saquon Barkley someone to run behind. This is why I think Thomas is the best choice at No. 4, unless the Lions decide to take him 3rd overall.
NFL Player Comp
Thomas is not just a great tackle prospect but he is an athlete at the position. Now I don't expect him run like Terron Armstead or Andre Dillard, but his above average athleticism and long arms remind me of Russell Okung. While his career has been up and down, it has mainly be injury to slow Okung down since being the 6th overall pick in 2010. Thomas actually has a half inch longer arms (36.5 inches), possesses similar football I.Q. and should be a better athlete than Okung in the NFL.