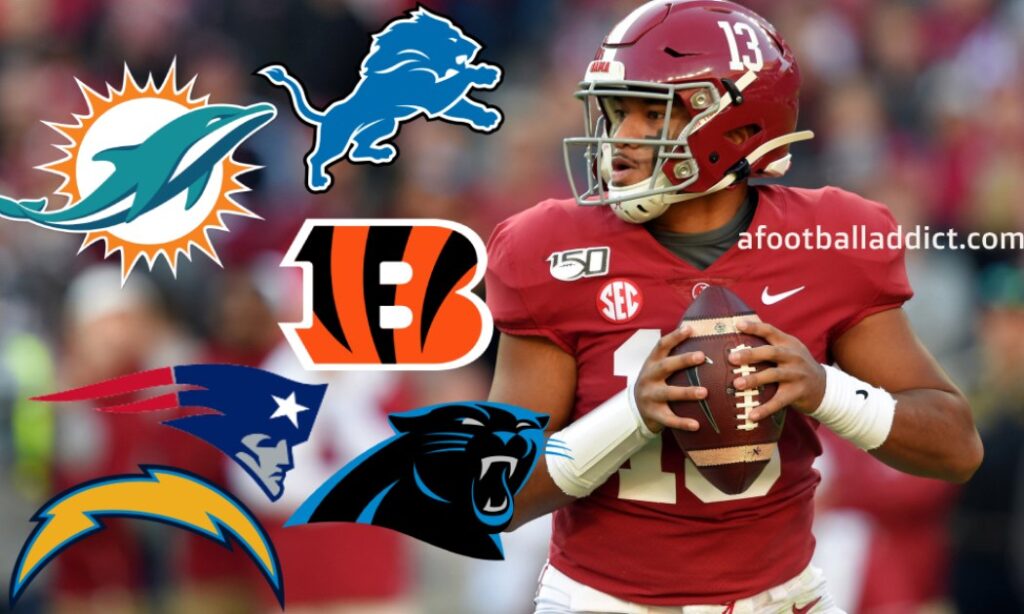 Tua Tagovailoa
#2 Overall Quarterback by Football Addicts
Born: March 2nd, 1998 (21 Years Old)
Height: 6'1
Weight: 215 Lb
Position: Quarterback
University: Alabama
About Tua
Tuanigmanuolepola, better known as Tua, was born in 'Ewa Beach, Hawaii and is the oldest of four brothers and two cousins that play D1 football too. 247Sports and ESPN both had him ranked as the best dual threat quarterback in the class of 2017. After nearly committing to USC, Tua decided to attend Alabama at the last minute.
In 2017 Tua would play back up to Jalen Hurts, but got plenty of playing time because they are Alabama and they beat most of their opponents by 42 points. Tagovailoa would put every snap to use, and would truly shine after being called on to replace Jalen Hurts in the College Football National Championship. In overtime, he would throw the 41 yard dagger to Devonta Smith to win the game, and the starting job going forward.
Tua would make his first career start on Sept 1st, 2018 against Louisville, thus starting his record breaking season with the Crimson Tide. Throwing for 3,966 yards and 43 passing touchdowns, which are both single season records for Alabama. The Crimson Tide rolled through the regular season going 14-0 and earning the No. 1 seed in the College Football Playoff. After making it to the championship Alabama would shockingly be crushed by Clemson 44-16.
If you're reading this you most likely already know how Tua's 2019 went, so I'm not going to spend too much time on the negatives. He would continue his record breaking 2018 season by setting Alabama's career passing touchdown record. Coming off a close loss to No. 2 LSU, Bama would face Mississippi State in Week 10. Tua suffered a season ending hip injury after a nasty tackle, and finished the season with 2,840 yards 33 touchdowns and three interceptions. Alabama would lose again vs Auburn two weeks later and miss the College Football Playoff for the first time since it was established.
Strengths and Weaknesses
Strengths
His pocket presence is great, avoids pressure and will extend the play while keeping his eyes down the field. Tua has a great knack for making explosive plays, especially when breaking out the pocket. He is very accurate, and doesn't make poor decisions as he has an 87 to 11 career touchdown-interception ratio.
He hasn't had too many opportunities to do so, but when he has done well leading a 2 minute drill and clutch situations. His arm strength won't wow you on tape but has never had an issue of getting the ball where is needs to be. At the end of the day, Tua is a winner, and shines when the lights get bright and that is something you want to see out of your franchise quarterback.
Weaknesses
The biggest thing I couldn't stand about Tua in 2018 was how badly he would stare a receiver open, and it is something he has improved on this year, but you can still see it from time to time. To be honest I can understand considering he had four different receivers who would most likely be the #1 option on pretty much any other team.
Obviously his durability is going to be something to monitor. Both ankles have needed surgery and his latest hip injury could be one that will have him missing his rookie season.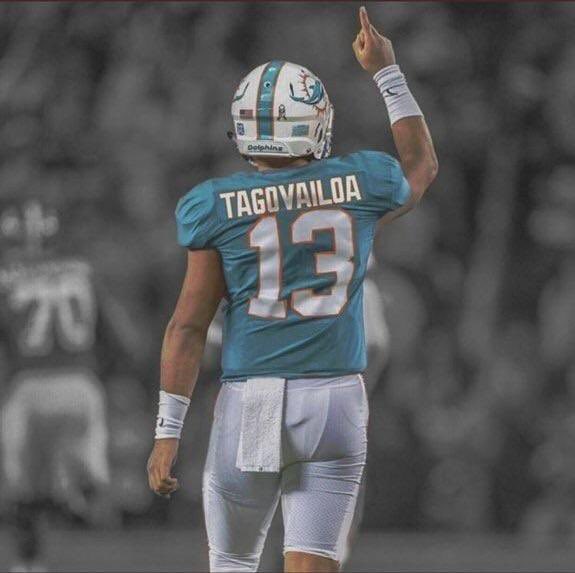 NFL Draft Projection/NFL Player Comp
NFL Draft Projection
Even with his injury it looks like Tua is still going to be a Top 10 pick, especially if Cam Newton and Carolina split ways in the future. In my latest update to my NFL big board, Tua sits at 11. There have been rumors that Tua is too much of a health concern, and that he could slip due to it. I believe he should still go 5th overall to Miami this Thursday. If you think you have your quarterback, it is never "too early" to take him.
Miami has plenty of time to rest his hip if they need to, or even if they just want to. Rosen or Fitzpatrick can keep the offense going while the rookie soaks in all he can before getting tossed to the wolves. Davante Parker and Preston Williams are a very underrated receiving duo, and a very athletic tight end in Mike Gesicki. The pieces are starting to build up nicely, and would still have two more 1st round picks just in this class alone.
NFL Player Comp
He's one of the greatest quarterbacks in college football history, very accurate, and has a spotty injury history. While I don't necessarily think he will have the same career path as him, his play style and positive traits do mirror Sam Bradford coming out of Oklahoma. Bradford was able to perform decently when put with a good organization late in his career, and I strongly believe was more ruined by Jeff Fisher than actually busting himself.
Basically what I'm saying is, Miami, PLEASE protect this man with a good offensive line.