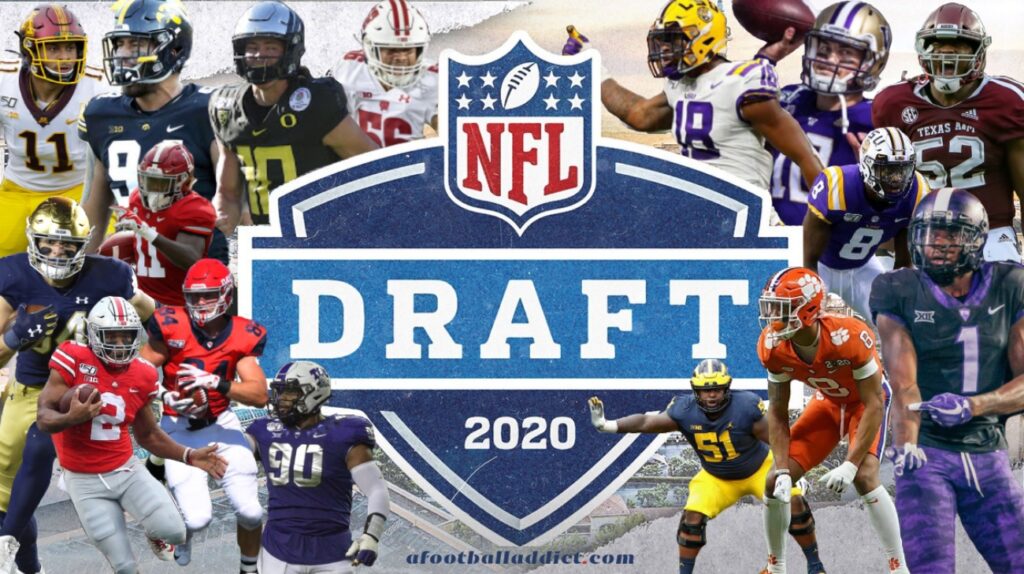 I hope everyone is staying sane during their quarantine and if not, hopefully this can give you something else to be mad about instead. The NFL Combine passed, and with everything else shut down till further notice, we await the NFL Draft. We are less than a month away from it, and with the big wave of free agency over with, we are getting a clear view of how a lot teams are going to face the draft. Isaiah Simmons somehow found a way to boost his draft stock from a Top 10 pick, to a Top 5 possibility. We got a new OT1, Jacksonville finds their quarterback of the future, and the 49ers look to add some fire power to their offense. My NFL Draft database continues to get deeper and deeper (over 400 players), and it is safe to say this is going to be another talented class with playmakers going even 3rd or 4th round. If you have any questions or comments, I am more than ok with answering questions here @tdashwebb42
This is an updated two round mock draft, with all trades accounted for as of April 3rd, 2020. I will be posting an updated version of my NFL Big Board, featuring my Top 100 players that will go along with this Mock Draft. If you want to see how things switched up from v.7 and all the previous mock drafts before, check them out below.
(v.1), (v.2), (v.3), (v.4), (v.5), (v.6) (v.7)
NFL Big Board
(Updated 4/3/20)

3. Detroit Lions, Isaiah Simmons
While a trade here is highly possible, taking Isaiah Simmons 3rd overall isn't a reach either. Simmons was already a freak prospect, and then he ran a 4.39 40 yard dash at the NFL Combine to put the explanation point on that statement. To put that in perspective, only four wide receivers ran a faster time than that this year, and faster than Odell Beckham Jr. Matt Patricia is a defensive minded head coach, who just lost his only elite talent on his defense by trading Darius Slay. Drafting Simmons gives Patricia a unique playmaker, and a possible new face of his defensive unit.
6. Los Angeles Chargers, Andrew Thomas
For the longest time I have had the Chargers not just drafting a quarterback this year, but drafting Justin Herbert specifically. Now all the sudden, I get the feeling that might just not be the case. LA seems to be pretty content with running with Tyrod Taylor in 2020, and with names like Andy Dalton, Cam Newton, and Jameis Winston still out there, I believe the Chargers are beginning to look elsewhere. They brought in Bryan Bulaga, and traded for Trae Turner during the off season. Selecting Andrew Thomas would complete the rebuild of one of the leagues worst offensive lines, making it actually possible to win games with Tyrod Taylor.
9. Jacksonville Jaguars, Justin Herbert
Jacksonville has all the weapons they need to move up and draft Tua if they do want to take that route. Here though, they stay put, and end up having one of the top quarterback prospects in the draft still fall to you. Quarterback might not be the biggest need for the Jaguars, but I personally dont think Garnder Minshew is going to be a long term answer. Bringing in Justin Herbert allows Jacksonville options at quarterback, which is never a bad problem to have. For a team that was so tormented by the QB position in years past, finding the right guy under center is probably the best way for Jacksonville to go currently.

13. San Francisco 49ers, Henry Ruggs III
The 49er's finally made a move to trade the odd man out of their defensive line rotation, and it resulted in a 1st round pick. I think it is safe to say their defense is still going to be one of the best in the league, so addressing the offense here would be wise. They just lost Emmanuel Sanders during the off season, and we all know how Kyle Shanahan likes his Crimson Tide receivers. He had two in Atlanta, and he finally gets his own in San Francisco by selecting Henry Ruggs III. Ruggs gives them a receiver that can open up the running game by making defenses stay genuine with his speed.
14. Tampa Bay Buccaneers, Jordan Love
Tom Brady shocked the NFL world by joining Mike Evans, Chris Godwin, and Bruce Arians by heading to Tampa Bay in free agency. It has been made public though that the Bucs viewed this as a "dream scenario" and I think they would be wise to address their future too. Jordan Love's biggest question mark is can he hone in his talents, and if he can't learn under Tom Brady and Bruce Arians, then it would be safe to say he just isn't cut for the NFL.
18. Miami Dolphins, Mekhi Betcon
Really the only question mark about Tua Tagovailoa is can he stay healthy for a full NFL season? What better way to keep him healthy than a 67, 350 Lb left tackle protecting him. Betcon has been one of 2020s biggest risers, and for good reason. He completely dominated his ACC opponents, literally throwing them around at times. Come April he probably wont be available at the 18th pick, but if they could get him here he provides a lot of value. Miami spent a lot of money on the defensive side of the ball, so I wouldn't be surprised if they use the draft to fix a lot of their issues along the offense.

26. Minnesota Vikings, Jordan Elliott
After using their 22nd pick on Bryce Hall, the Vikings continue to restock the defense with the selection of Jordan Elliott. Minnesota just lost Linval Joseph, and haven't had any consistency at the position for a few years now. Jordan Elliott is a defensive tackle that can stop the run, and rush the passer from the interior. Elliott would pair nicely next to newly signed free agent, Michael Pierce, who is slotted to be the starting nose tackle in 2020.
29. Tennessee Titans, Josh Jones
Tennessee shocked the sports world by beating the Patriots, and a 14-2 Ravens team on the way to an AFC Championship appearance. In doing so they showed to not have as many holes as it might have originally seemed. They re-signed Ryan Tannehill, franchise tagged Derrick Henry, and look ready to go to run things back in 2020. Losing Jack Conklin to the Browns created a pretty big need at offensive tackle, and luckily for the Titans, this class is filled with them. Even all the way at pick 29, Tennessee is able to select Josh Jones, who could slide in very quickly at right tackle for them.
32. Kansas Chiefs, Jeff Gladney
Chris Jones signing his franchise tag really leaves just a few holes on the Chiefs roster. Currently they only have Charvarius Ward, Rashad Fenton, Alex Brown, and Chris Lammons at cornerback. Besides Ward, thats 21 career tackles across the rest of their other cornerbacks on the team. With that being said, bringing in someone like Jeff Gladney would give KC a much needed boost to their secondary. He is a physical corner who can play well man to man or in zone. He reminds me a lot of Chris Harris Jr, who just recently signed with the Chargers.
2nd Round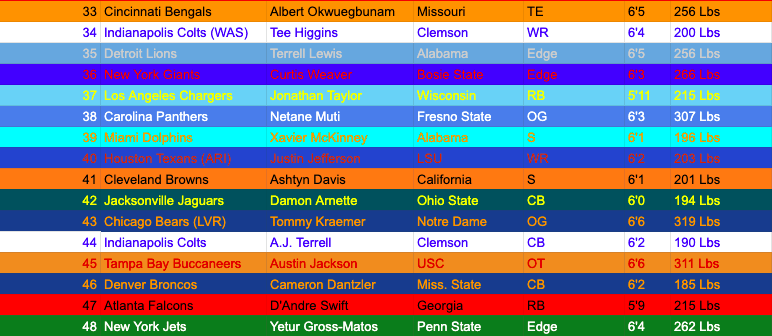 34th
The Colts used their first round pick on adding Arik Armstead to their defensive line, and signed veterans Phillip Rivers and Xavier Rhodes in free agency. They still have yet to address wide receiver, so I assume they are looking to do so through the draft. Selecting a receiver like Tee Higgins gives Rivers his Mike Williams for Indy. The AFC South is filed with questionable secondaries, and the Colts could put themselves over the top by adding another threat opposite of T.Y. Hilton. Higgins, Campbell, and Hilton would put together a good trio of receivers for Phillip Rivers and whoever is in Indy after him.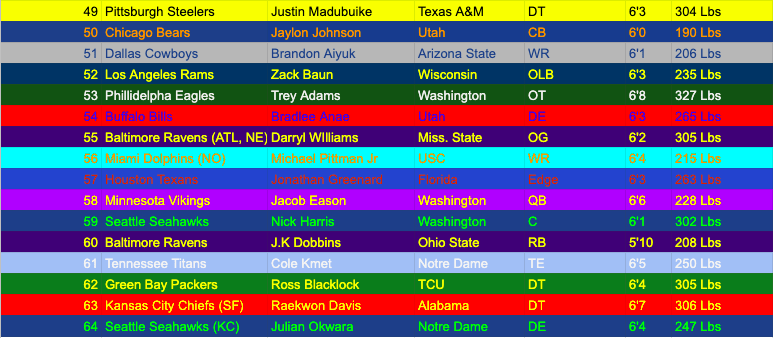 49th
Javon Hargrave signed with the Philadelphia Eagles on a three year/$39 million contract, leaving the Steelers with a good size hole to fill on that defensive line. Hargrave was a big bodied nose tackle, who could disrupt the line of scrimmage from time to time. Drafting Texas A&M defensive tackle, Justin Madubuike, would immediately fill in that role for the Steelers. Madubuike was the Aggies sack leader with 5.5 and had 11.5 tackles for loss in 2019. While Hargrave was a good defensive lineman for the Steelers, he wasn't worth the $10M+ a year deal he got.
55th/60th
The Ravens traded away Hayden Hurst for a 2nd round pick that they can now use to address an actual need on the roster. Now that they have addressed the linebacker position, you can argue Baltimore go a few ways with their two 2nd round picks. There is no way to replace Marshal Yanda, but you do have to fill in that gap somehow. 2019 4th round pick, Ben Powers, could be the answer but bringing in a mauler like Darryl Williams doesn't hurt. He can play center or offensive guard for the Ravens, giving their explosive running attack a swing lineman to use in emergencies.
Swinging back around at 60, I have them selecting Ohio State running back J.K. Dobbins. This is one of my more favorite player/scheme fits in the class. Gus Edwards is on a one year deal, and Mark Ingram will be 32 when his contract is up too. Dobbins brings exactly what Edwards and Ingram bring to the Ravens offense, and gives them depth at a position they exhaust everything out of.