Even though there might not be fans at the games, the NFL season looks to be on it's way for 2020-2021. Which means the Fantasy Football season is underway as well. Each month I will be updating you on trends through mock drafts, fantasy football relevant news, and which players to stay away from when drafting.
We go from the quarterbacks to…you guessed it! Defenses and kickers. Since there isn't too much to talk about them individually in fantasy football, I thought it would be best to combine the two. While they might not make or break your fantasy season, having a consistent kicker and D/ST can make the season a lot easier.
(Having a player in the "Trending Down" section isn't me calling them bad. Continue on!)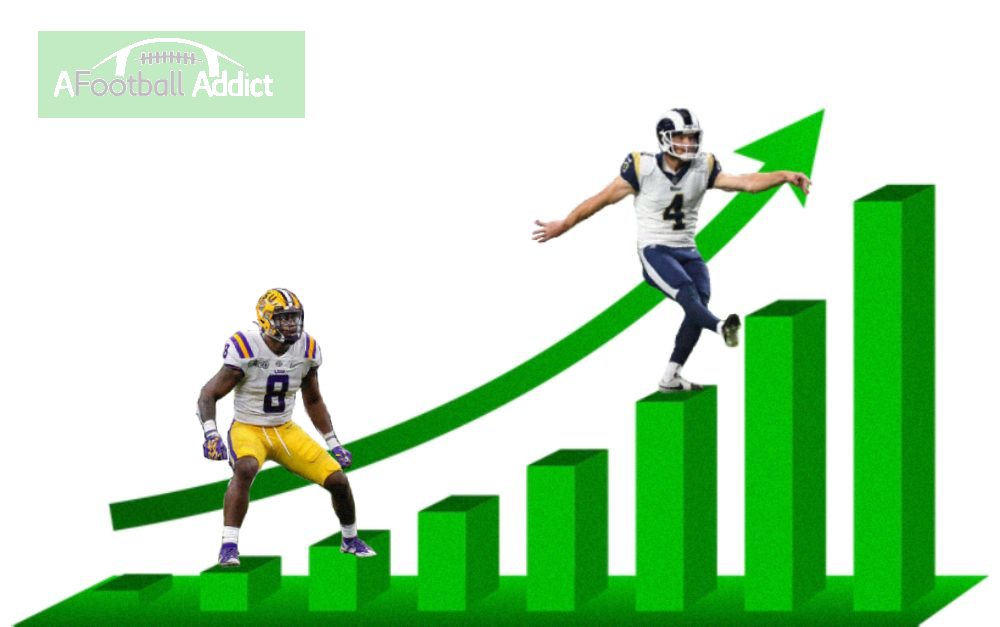 Trending Up
One of the best defensive units in the NFL last year got a heck of a lot beefier up front this off season. It is clear the Ravens still have a bad taste in their mouth from the AFC Championship and looked to improve at stopping the run. Adding Calais Campbell and Derek Wolfe, to pair with Justin Madubuike from Texas A&M, will not just make it harder to run the ball but will allow these linebackers to make plays too. Systematically, you gotta love how the Ravens were able to build their defense this off season.
If it weren't for the top heavy start the Patriots defense had last season, the Steelers defense would have easily been the best in fantasy last year. Pittsburgh lead the NFL in sacks with 54 total, and we 2nd in the league in interceptions. They have a full year with Minkah Fitzpatrick and Devin Bush is no longer a rookie. This defense is one of the best in fantasy but normally isn't the 1st off the board. The Steelers D/ST is definitely one you want to put in your queue.
Zuerlien is consistently one of the best kickers in the NFL. They don't call him Greg the Leg for nothing. Now that he is on the Cowboys, he is set to have a busy season ahead. They just added CeeDee Lamb to one of the more potent offenses in the league, and also have a more down the field tight end with Jarwin. With a leg has strong has Zuerlien's Dallas will be in field goal range most of the season.
Dan Bailey
Dan Bailey had 27 field goals in 2019, but only 8 of them were from further than 30 yards. For those that arent the best at math, that 19 field goals kicked from 0-29 yards out. Stefon Diggs isn't a Viking anymore to help them gain 30 yard chunk plays. Dalvin Cook might not be playing a full season either. Something tells me Minnesota might be kicking their field goals a little further this year.
Trending Down
As mentioned earlier, the Patriots had a record breaking top half of the season last year, but don't let that fool you. This isn't that same defensive unit at all. They lost Kyle Van Noy, Jamie Collins, and Danny Shelton all this off season, and their secondary is another year older. We also saw the Bills and Dolphins both get a lot better on offense and should be tougher to defend. I would be much happier with the Ravens or Chargers defense who are both ranked below the Pats on ESPN.
On Thursday the news broke that Jamal Adams has officially asked to be traded from the organization. I wouldn't be surprised if this was the first domino to fall in a long line of others for the Jets. The Jets need to move on, and even if they don't, the drama surrounding their defense is too much for me to worry about. This situation reminds me of the Jaguars/Ramsey drama that happened a few seasons back, and just like with Jacksonville, it might be time to blow it up for the Jets. 
We see a lot of veteran kickers starting to hit their metaphorical cliff. Last year it was Adam Vinatieri, and Stephen Gostkowski, and we have seen Mason Crosby struggle at times too. Not only has Prater had a slight drop off in his kicking the past few seasons, the Lions offense might not do too much in 2020. I have the Lions projected to have the first pick in the 2021 NFL Draft, and that doesn't happen with a fluid offense. If I were to put my money on any of the kickers to have a down year, it would be Prater.