Even though there might not be fans at the games, the NFL season looks to be on it's way for 2020-2021. Which means the Fantasy Football season is underway as well. Each month I will be updating you on trends through mock drafts, fantasy football relevant news, and which players to stay away from when drafting.
Let's start off with the quarterbacks.
(Having a player in the "Trending Down" section isn't me calling them bad. Continue on!)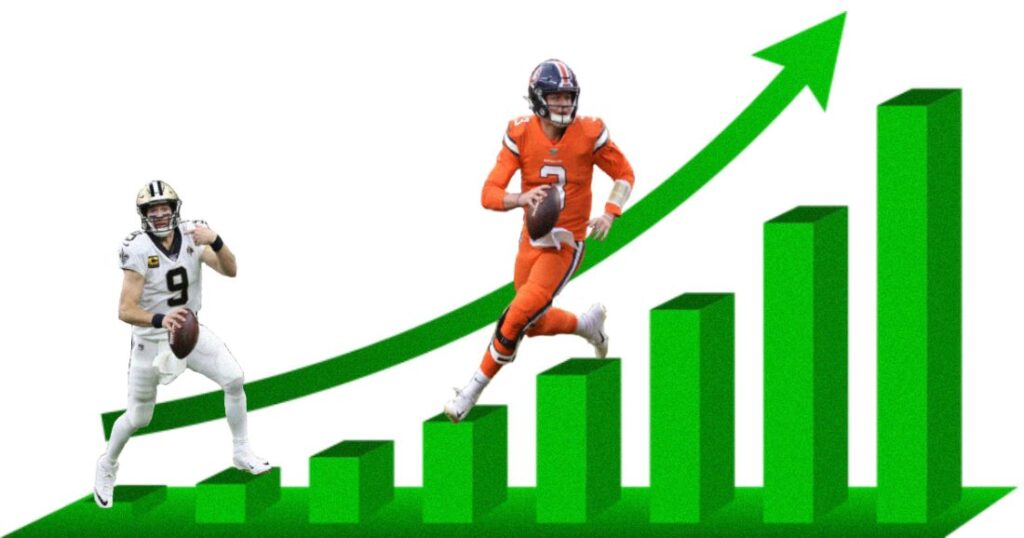 Trending Up
Drew Brees
If you're looking for a quarterback who could potentially be a Top 3 fantasy option but only cost you a late round pick, Drew Brees is your guy. As of June 10th Brees is currently going after Josh Allen and Carson Wentz in mock drafts, and could be picked up after the 8th round. For the first time in a long time Brees has a reliable second receiver in newly acquired Emmanuel Sanders, and he should pair perfectly with Michael Thomas in their offense. Brees has been in some hot water recently due to comments he made about kneeling for police brutality, which he thought disgraced the American flag. Could this be a reason why he is staying undrafted? We will see come August.
Josh Allen
He rushed for 510 yards last year, helping him become the 6th highest scoring QB in 2019, but his new weapons on the outside are what really peak my interests. I have always said Buffalo needs more reliable weapons on the outside and they finally went and got one in Stefon Diggs. Don't sleep on Gabriel Davis either. Davis just gives another deep threat for Allen to launch the ball to. As a franchise in general Buffalo has seemed to be trending up, and I believe that trend will help push Josh Allen into consistent fantasy relevance.
Drew Lock
Drew Lock is currently going at the end of drafts, if not undrafted in current mock drafts. While he might be unproven, his small sample size and large offensive additions make him a fantasy football gem in my eyes. In the few games he played Lock only completed less than 60% of his passes once, and didn't throw a pick in his last two games. They added Jerry Jeudy, K.J. Hamler, and Albert Okwuegbunam to an offense that already had Courtland Sutton, giving Drew Lock plenty of weapons to work with. Potentially Lock could be leading one of the deepest offenses in the NFL very soon. For someone who might be there after you select your kicker and D/ST, I think Lock has plenty of fantasy football upside.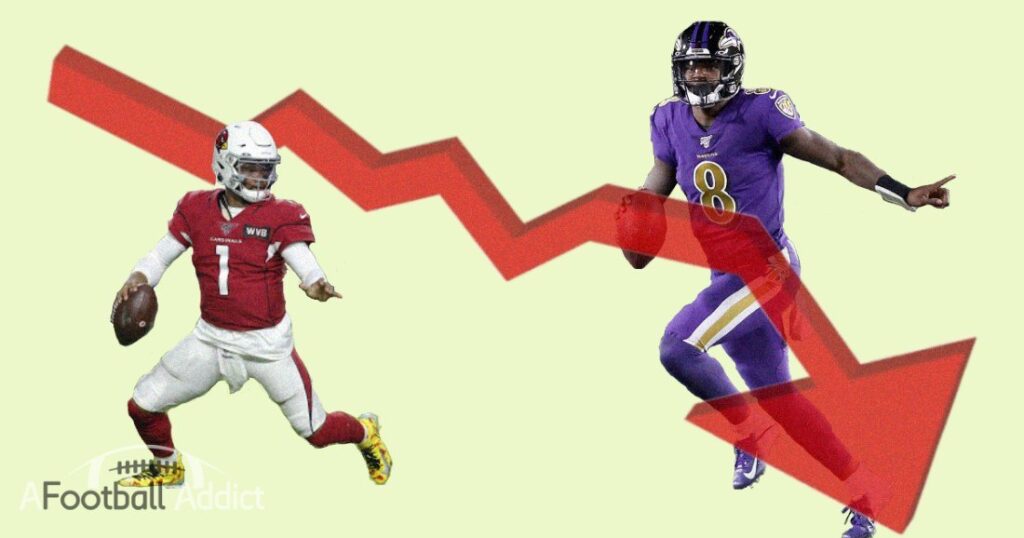 Trending Down
Lamar Jackson
Let me start off this by making it clear you will not meet a bigger Lamar Jackson fan in your life than me. With that being said, I have seen Lamar being taken in the FIRST round, an area where no quarterback should even really be mentioned. Jackson had one of the best seasons of all time last year, and that led to amazing fantasy production for the young single caller, but maybe pump the breaks? No quarterback has ever rushed for back to back 800 yard seasons, and NFL defenses should be more prepared for him in 2020. When you have someone like Drew Brees or Tom Brady available past the 9th round, you just don't take a quarterback over players like Zeke or Dalvin Cook.
Kyler Murray
Kyler Murray will win the NFL MVP this year according to aFootballAddict.com, but is it possible for him to still be over drafted? Yes. ESPN has Murray as the 3rd overall fantasy quarterback, behind only to Jackson and Mahomes. His "quiet" 544 rushing yards last season do present a solid floor for Murray, but taking him over proven QBs like Prescott and Wilson could be costly. Don't avoid Kyler Murray completely, but do be wary of paying for the name value that comes with Kyler Murray.