Executive of the Year
Kevin Colbert, Pittsburgh Steelers
The good moves started rolling in April when Pittsburgh decided to go up and get Devin Bush with the 10th pick of the 2019 NFL Draft, and it didn't stop there. Not only did they sneak in a few late round steals like Dionate Johnson and Benny Snell in the late rounds, but they also gained another 1st round pick for this year by trading for Minkah Fitzpatrick.
While the offense might be struggling to find itself in 2019, the Steelers have transformed their defense into a problem for opposing quarterbacks. The Steelers lead the league in drives ending in a turnover, and has nearly 30 sacks already.
Devin Bush is looking like a possible DROY candidate and there is no safety anywhere near the talent of Minkah Fitzpatrick in the 2020 draft class. In seemingly one draft class, Kevin Colbert has brought back the grass roots of Steeler nation, and that is a stout defense that creates havoc for offenses.
Coach of the Year
Mike Tomlin, Pittsburgh Steelers
No Antonio Brown? That's fine. No Le'Veon Bell? That's fine. No Big Ben? Ok so that might be where I draw the line, but Mike Tomlin has turned this sour lemon of a roster and made a nice pitcher of lemonade out of it.
The Steelers are sitting at 4-4 and more importantly only two games back from 1st place in the AFC North. Mason Rudolph has stepped in and filled his role as best as he can, but what is keeping this team afloat is their defense. Mike Tomlin has brought back some physicality to this Steelers team, and has done one of the most impressive coaching jobs I have seen in awhile.

Offensive Rookie of the Year
A case could be made here for Josh Jacobs, who has been everything the Raiders have hoped for and helped this team be the physical team Jon Gruden wants to build. But man that boy Kyler Murray, the guy who is too small to play quarterback has been showing out this season.
Kyler Murray has had one of the busiest rookie seasons we have seen in some years, and could set the rookie record for pass attempts (627) and completions (379). He is also hovering relatively close to the rookie completion percentage record as well, set by Dak in 2016 (67.7%).
All that, and we didn't even mention his clutch performances he has pulled out this season to help a team with one of the worst defenses in the NFL remain seemingly close in all of their games. If Kyler can stay sharp and continue playing smart football, not only can he win OROY, he will have the Cardinals revitalized back in no time.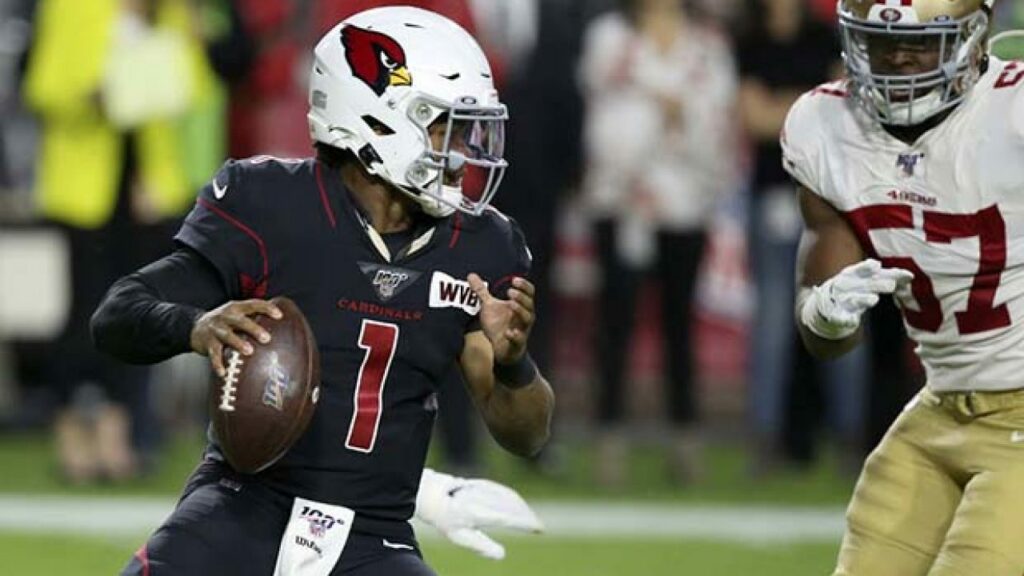 Defensive Rookie of the Year
Nick Bosa, San Francisco 49ers
While there really has been a great pool of defensive rookies, this is the easiest award to give out so far. Nick Bosa has been a legit defensive player of the year candidate, let alone defensive rookie of the year.
Sitting at 7 sacks in his first nine games, Bosa is well on pace to break the San Francisco 49er's rookie sack record held by Aldon Smith, and could even flirt with the all time rookie sack record as well. As long as he can keep this momentum through out the season, Bosa should have this award in the bag.
Comeback Player of the Year
Teddy Bridgewater, New Orleans Saints
Bridgewater's last meaningful game was when he was with the Minnesota Vikings, and suffered what some thought could be a career ending knee injury. Just over 3 years later, we finally got to see Teddy Bridgewater in action as a starting quarterback, once Drew Brees went down with his thumb injury.
You could easily go with Jimmy Garoppolo here but this is the mid-season awards and no one helped themselves more in the 1st half of this season than Teddy Bridgewater. While Jimmy G has been nice, the MVP of that team has been their defense without question.
In the 5 games he stepped in to relieve Brees, the Saints went 5-0 against teams like the LA Rams, the Seattle Seahawks, and the Dallas Cowboys. Bridgewater completed nearly 68% of his passes, and had a touchdown to interception ratio of 9-2. Those stats should be good enough to land him a starting job somewhere else next season, which could mean for upwards of a $22 million payday, which makes Bridgewater my winner of Comeback Player of the Year.
Offensive Player of the Year
Russell Wilson is responsible for 22 touchdowns to just one interception through his first nine games, which is an NFL record. He has made some of the most impressive plays you will see all season (with a little help from Tyler Lockett of course), and even masterminded his own touchdown drive while he and coach Carroll had technical difficulties.
For years Russell Wilson has always been the odd man out in most elite quarterback conversations, but this year he is making it known to the world he belongs in those conversations. He leads the league in passer rating, passing touchdowns, passing touchdown %, and has a league high 4 comeback wins. Wilson, Watson, McCaffrey and Mahomes will make this one of the tightest races on the board.
Defensive Player of the Year
Stephon Gilmore, New England Patriots
This New England defense is one of the craziest things I can remember watching in my time watching the NFL. Yes the opponents have subpar at best, but they completely wiped the board with those teams for eight weeks, and the star behind it all is Stephon Gilmore.
To be a cornerback in New England you must be an all around playmaker and that is exactly what Gilmore has been this year. Opposing quarterbacks only have a 47.6 passer rating when targeting Gilmore, and has yet to give up a touchdown.
In a league full of loud defensive stars, Stephon Gilmore quietly goes about his business, just like the Patriot way calls for. Half way through the year it would be hard to say any player deserves this award more than Gilmore at this point. If he were to win the award he would be the first defensive back since 2010 to take it home.
NFL MVP
What can this man not do? As of Week 9 he leads the NFL in yards from scrimmage (1,241 yards), is 2nd on his team in receptions (43) and leads the NFL in touchdowns for non quarterbacks. He is not just 42% of this offenses entire yards, he has been apart of 59% of the touchdowns this offense has scored as well.
Cam Newton has been banged up all year, but McCaffrey has put this offense on his back and is dragging this team into the playoffs with him. He is challenging quarterbacks for the MVP, breaking the mold of what a white running back should be in the NFL, and even evolving the game for the running back position. All in just his 3rd NFL season, and that is why McCaffrey is the Mid-Season NFL MVP.