The Most Impactful Names for the 2019-20 College Football Season
I have an addiction to college football, and I have learned to live with it for over 6 years now. One of my best ways to fuel my addiction in the off season is to study up on the players that didn't suffer their last season as a collegiate athlete. Throughout the 2018-19 season, I was able to witness plenty of players that looked plenty capable of declaring for the NFL, but either aren't able to yet, or feel like they have unfinished business back at their university. Of course we could talk about the wonderful Trevor Lawrence, or the terrific Tua Tagovailoa, but I want to talk about names you might not hear. These other names are still elite talents that will soon have their names called upon at the NFL Draft as well. Whether it is passing, tackling, catching or blocking, these are 20 of the best incumbent college football athletes.
* This list is not ranking anyone, just names to keep an eye out for in 2019.*
1. Justin Fields, Ohio State, Quarterback
Ohio State had a grotesque, roller coaster of a 2019 campaign. One of the few bright sides was landing one of the biggest transfer this off season, former 5 star quarterback, Justin Fields. Though Fields hardly saw the playing field this year, he is still one of the brightest young athletes in the nation. Seeing how well Dwayne Haskins performed in his first year as a starting quarterback is an auspicious sign for Justin coming into Columbus. The losses of Paris Campbell and Terry McLaurin take some of the track speed away from this offense, but won't lack weapons with J.K Dobbins and K.J. Hill returning for the Buckeyes. Penn State, Wisconsin and Iowa all took major hits from the NFL Draft, and Justin Fields will look to use that to his advantage in becoming the King of the Big 10.
2. CeeDee Lamb, Oklahoma, Wide Receiver
CeeDee is my one of my favorite receivers in the 2020 NFL Draft class, and one of my favorite players in general for next season. I believe he has the chance to truly break open in 2019 as he is the main receiver at OU. Standing at 6'2, Lamb has long frame that comes in handy after the catch. I have watched multiple short yard plays get broken off for a 40+ yard touchdown. We last saw him cap off an immense season with 8 catches for 109 yards and a touchdown vs Alabama. He finished that season with 65 catches, 1,258 yards and 11 touchdowns, with nearly 18 yards a catch. Next year is going to look very different on the offensive side of the ball for the Sooners, but CeeDee Lamb's production will be one of the few constants Oklahoma will bring back.
3. Kristian Fulton, Louisiana State, Cornerback
LSU is known for being a factory for defensive backs of all kinds. Kristian Fulton looks to continue that legacy, and has to overcome a lot to get to this point. Fulton was a 5 star cornerback coming out of Archbishop High school in Metairie, Louisiana. In 2017, Fulton was caught trying to use someone else's urine for a PEDs test by LSU, and was suspended by the NCAA for tampering with the test. The NCAA did their thing, and dropped a 730 day ban on the kid, who originally believed he would be flagged for marijuana, not knowing he was only being tested for PEDs. That ban was finally lifted last season, and Kristian was able to ball out across of Greedy Williams. In his junior season, he would finish with 25 total tackles, one for a loss, an interception, and tie Greedy in pass deflections with nine. At the end of the season Fulton finished in the Top 10 with a 39.5% completion percentage when thrown at. Now that Williams is gone, Fulton looks to lock down the starting corner position for the Tigers next season.
4. Jacob Eason, Quarterback, Washington
Justin Fields isn't the only 5 star quarterback that transferred from Georgia on this list. Out with Jake Browning and in with Jacob Eason, as the Huskies set to continue their reign over the Pac-12 North. At Georgia, Eason started 12 of the 13 games he played as a true freshman, and took them to a 8-5 record with a Liberty City Bowl victory over TCU. 2017 didn't go as smooth for Jacob, as he would lose his starting job after getting injured early in the season. While sitting out his redshirt year, Eason was still working hard on the practice field, winning the Offensive Scout Squad MVP. Many Washington defenders gave him credit for preparing the defense, and defensive coordinator Jimmy Lake was quoted "It definitely made us better…to have an elite quarterback like that to face week in and week out". Jacob Eason is ready to push this Washington Huskies team to the next level this upcoming season.
5. Jalen Reagor, TCU, Wide Receiver
Meet the guy keeping CeeDee Lamb from the top of my favorite players list. Jalen Reagor is an all around superstar athlete, and is the definition of an offensive weapon. As a TCU fan, I have watch him single handled carry our offense for over a month span; to the point that he scored six of our eight offensive touchdowns in the month of November last season. He had 72 receptions for 1,061 yards, and 9 touchdowns receiving, while also getting 170 yards and two touchdowns rushing, on just 13 carries. Reagor looks to aim in on the Biletnikoff award for his upcoming junior season, and looks forward to all the wins that will come with that.
6. Jonathan Taylor, Wisconsin Running Back
Wisconsin has produced great running backs for the past decade, and Jonathan Taylor has just been another product of their system. Taylor had to earn it though, coming into Madison as the 4th string running back his freshman year. Throughout practice, Jonathan wowed the coaches enough to get the starting role and followed that by rushing for 200+ yards in three of his 1st six career games. He finished his freshman campaign with 1,977 rushing yards and 13 touchdowns. The Badger came back with another fantastic season, rushing for 2,194 yards and 16 touchdowns, thus claiming the 2018 Doak Walker Award. Taylor will be one of the best backs in college football, and will most likely be mingled as a Heisman candidate for 2019.
7. Grant Delpit, Louisiana State, Safety
LSU is going to have two of the best returning defensive backs in the country, Grant Delpit being the second on this list. This Tiger was all over the field making plays in 2018, making it hard for you to miss the sophomore safety from Houston. In his sophomore campaign, he recorded 74 total tackles, 5 sacks, 5 interceptions, 9 pass deflections, and a forced fumble. That stat line earned him Unanimous All-American honors, Unanimous All-SEC honors, and even made him a finalist for the Nagurski Award. He can cover deep well, is a heavy hitter, and can also get after the quarterback, and not to mention he is 6'3, 205 Lbs. Delpit could have arguably been the best safety in this class if eligible, and looks to certify that in 2019.
8. Laviska Shenault, Colorado, Wide Receiver
He not only has one of the most fun names to say in college football, but also was one of the most fun to watch last season. He still managed to grab 86 catches for 1011 yards and 6 touchdowns on 108 targets. Shenault was able to do damage on the ground as well, turning 17 rushes into 115 yards, and 5 touchdowns. His longest catch of the season was 89 yards, and his longest rush of the season was 49 yards, and he did it all in just 9 games. Many scouts would have had him above talents like A.J. Brown and N'Keal Harry if he was eligible for the NFL Draft this year. With them headed to the NFL, Laviska will be battling CeeDee Lamb, and Jalen Reagor as my number one rated wide receiver in 2019. Chase Young, Edge Rusher, Ohio State Chase Young, Edge Rusher, Ohio State
9. Chase Young, Edge Rusher, Ohio State
Ohio State has finally ran out of Bosas, but that doesn't mean they don't still have other elite edge rushers in line behind them. Chase Young took over for the Buckeyes after Nick Bosa left the team to focus on getting healthy for the NFL. His former teammate and Vikings 4th round pick, Jayln Holmes, praised Young's work ethic and competitive nature; stating that if he stays on his path at Ohio State he will be better than Myles Garrett. Young is a twitchy, explosive, and violent edge rusher, that will gets after the quarterback on a consistent basis. He reminds me of Jadeveon Clowney coming out of South Carolina, as they both show quickness and speed throughout their games. With that being said I wouldn't be surprised if Young could play outside linebacker at the next level like Clowney, because of his ability to drop back into coverage, rush from a two point stance, and pull around to rush down the A gaps. Just like every year, Ohio State is going to have to replace a lot of big name talents, and Chase Young will sure be one to mention.
10. Cole Van Lanen, Offensive Tackle, Wisconsin
A big reason why Jonathan Taylor is so good is the factory of offensive linemen Wisconsin has. Cole Van Lanen wasn't even a starter for most of the season for the Badgers, but looks to be next in line to become a top NFL tackle from Madison. Pro Football Focus had him graded as the best offensive lineman on the Badgers offensive line, which is arguably the best O-line in college football. At the beginning of the season, the Badgers were hesitant to start the redshirt sophomore, but was soon forced his way into a starting line up with three All-Americans along it. With all three of those All-Americans heading to the NFL, look for Van Lanen to make a name for himself next season.
11. Justin Herbert, Oregon, Quarterback,
Herbert's decision to stay for another year in Eugene was a surprising one considering he was considered the best quarterback in the 2019 NFL Draft class to start the process. Washington, Washington State and Stanford all lost crucial players for their team, leaving the Pac-12 North wide open. With his return, the Ducks prepare for a run at the Pac-12 title, and possible even a shot at the College Football Playoff. Without too much higher of a draft ceiling left to climb, I am interested to see how Herbert's next season pans out in an open Pac-12 race. I believe if he can perform like his top 3 quarterback hype indicates, the Ducks could find themselves back into the College Football Playoff. If all this goes well, we could be looking at the Raiders first quarterback in their Las Vegas era.
12. Rondale Moore, Purdue, Wide Receiver
Rondale Moore was a 4 star true freshman last season from Louisville, Kentucky. Moore finished the season with 114 catches and 36 broken tackles after the catch, both leading all of college football last year. Purdue might not be a power house in the Big 10, but Moore gives the Boilermakers a chance every game with dynamic play making ability. Rondale Moore led Purdue in their huge upset victory over Ohio State last season. He recorded 12 catches for 170 yards and two touchdowns in that upset win, and had big games against Mizzou and Wisconsin as well. He took a jet sweep 76 yards to the house, against Northwestern and kept Purdue alive mainly by himself. Any NFL coach looking for a Tyreek Hill type of receiver in their offense will be drooling over this kid in 2021.
13. Xavier Thomas, Clemson, Defensive End
Clemson's defensive line had 5 players head to the NFL this year, and as impressive as that is, it means Clemson will have a lot of new faces starting for the Tigers. Thomas was the 3rd best recruit in the class of 2018, and was debatably the best defensive end of the class as well. He racked up 25 D1 offers, including names like Notre Dame, LSU, Alabama, and of course, Clemson University. Like Dexter Lawrence, Thomas was able to make an impact on the field in his freshman season, managing 33 tackles, 8.5 for a loss, and 3.5 sacks in 14 games with the Tigers. Xavier Thomas is going to be one of the only defensive lineman returning that recorded snaps for the Tigers last year, and will most likely have to take major steps this season.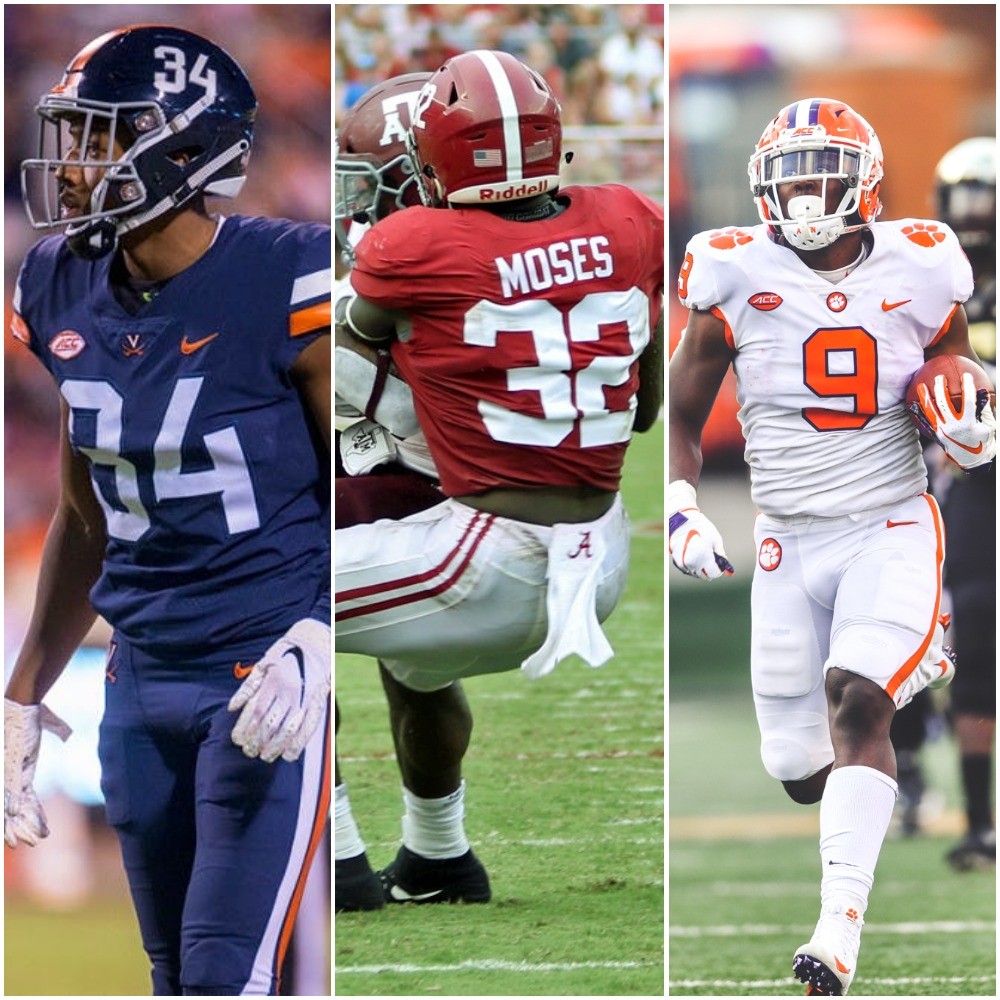 14. Raekwon Davis, Alabama, Defensive Lineman
Raekwon looked to be a 1st-2nd round pick at the end of the season despite his lackluster performance during the season. The Crimson Tide defensive tackle first burst onto the scene as a sophomore, recording 8.5 sacks and even returned an interception against Georgia in the National Championship. With him staying, the Crimson Tide are able to retain one of their biggest leaders along the defensive line, one of Alabama's most important position groups. Davis is an intimidating figure, standing 6'7 315 Lbs, he can still play all positions across the line in a 3-4 scheme. He does need some work on his burst and rely less on over powering the guy in front of him. Davis shown has flashes of great handwork to get past his blocker, but I would love to see it on a more consistent basis before locking him into the 1st round next off season.
15. Derrick Brown, Auburn, Defensive Lineman
Brown and Raekwon Davis are in the same boat, as many considered Derrick to be a 1st round selection heading into the 2019 NFL Draft. Regarded as one of last years top defensive linemen for the 2019 NFL Draft class, Derrick surprised many by staying for his senior season and complete his degree at Auburn. Brown cited that he wants to leave Auburn with his degree and a championship and retaining Derrick Brown is a crucial step at making that happen. Weighing in a 322 pounds, Brown is a physical threat on the inside for the Tigers, and can wear down blockers throughout the game. He dominates offensive linemen at the line of scrimmage, hardly ever getting pushed back, and will regularly be double teamed by offenses. Even with all the extra work that was put against him, Brown was still able to rack up 10.5 tackles for loss, and 4.5 sacks for Auburn last season.
16. Bryce Hall, Virginia, Cornerback
In today's NFL, most cornerbacks are all about coverage and are more or less "scared" to make a tackle, but Bryce Hall doesn't run by that narrative. Watching his highlights, you might mistake him for a safety the way he launches out for tackles, and the physicality he plays with in coverage. Hall led the nation in pass breakups last season with 22, as well as recording two sacks, and 3.5 tackles for loss. Bryce is another player that could have easily been a top player in his position group last year, but chose to stay for his senior season at the University of Virginia. His physicality, size, and tackling ability will not only have NFL defensive coordinators itching to draft, but also allow Hall to make a quick impact for his defense.
17. A.J. Epenesa, Iowa, Defensive End
Iowa has produced more and more NFL talent, and Epenesa could give them another player picked in the 1st round. Epenesa is 6'6, 280 Lbs, making him a huge defensive linemen to block and one of the nations best returning prospects. He led the Big Ten in sacks with 10.5, which would also rank him 12th nationally. In 9 of his 13 games, Epenesa was able to record a sack, and 11 of his 13 games he recorded tackles for loss. A.J. has even been able to rush the passer from a standing position, showing that he is a versatile defender even for his size. His game reminds me a lot of how Trey Flowers will impact a game, by just breaking the line of scrimmage and disrupting the play in some fashion.
18. Travis Etienne, Clemson, Running Back
Trevor Lawrence was busy stealing the hearts of college football fans around the nation, but Etienne was busy being one of the best running backs in the country himself. He was an issue every time he touched the ball, rushing for a ludicrous 8.1 yards a carry and finished the season with 24 rushing touchdowns. Etienne recorded two receiving touchdowns as well, making his 26 touchdowns the highest amount scored in 2018. Early in the season, Etienne lead a come back victory versus Syracuse, rushing for 200 yards and three touchdowns, to save the Tigers season. He had 2 rushing touchdowns in the national championship against Alabama and is a huge reason why Trevor Lawrence was able to kept his rhythm throughout the season.
19. Dylan Moses, Alabama, Linebacker
Dylan Moses has been waiting for this moment since 8th grade, when he accepted his offer to LSU (Ironically). He was the #1 overall athlete according to ESPN's Recruiting base, and the 5th best player overall in the 2017 recruiting class. In his limited time with the Crimson Tide, Moses has been able to record 116 tackles, 15.5 for loss, five sacks, two forced fumbles and an interception to boot. I have been waiting since my freshman year of high school to see if Dylan could finally make it to the NFL like he dreamed of back in 2013.
20. Trey Adams, Washington, Offensive Tackle
Last but not least, we have Trey Adams from Washington. Highly considered as one of the best tackles going into 2017, injuries have halted his playing time for the past two seasons. Even with a tore ACL in 2018, some thought he could still manage to be a first round pick last year, but Adams chose to stay another season. If Adams stays healthy, he will be key in helping Jacob Eason orchestrate their offense more efficiently. He has all the size you would need in an offensive tackle, standing 6'7 and weighing over 330 Lbs, but has the agility to make him likely a great left tackle.