We are still well over a year away from the 2021 NFL Draft, but this quarantine has given me so much free time that I am already looking forward to it. Once again we are going to be looking at a very talented group of prospects, but these guys are the cream of the crop. While I'm sure there will be players that pop on the scene like Joe Burrow did this year; I am pretty confident that next year's draft process will be centered around most of these names.
This can be paired along with my Way-To-Early 2021 NFL Mock Draft that will be posted later this month.This is just something for fun, and a rough estimate of who I think the top prospects of 2021 will be. Please don't get offended if your list might look a tad different. Anyways, without further a do, here are my Top 10 Players in the 2021 NFL Draft Class.
1. Penei Sewell, Offensive Tackle, Oregon
Did you expect this to be Trevor Lawrence? Possibly even Justin Fields? Well you're mistaken, and should get to know the name Penei Sewell if you don't already. The Oregon left tackle is one of the most NFL ready prospects we have seen in the past few years, especially considering the overall tackle position. He dominates every snap, and is a big reason why the Ducks have had one of the best offensive lines the past few seasons. Sewell is about as safe as Quentin Nelson was back in 2018. In my eight years of covering the NFL Draft, Sewell is without a doubt one of the safest prospects I have ever scouted.
2. Trevor Lawrence, Quarterback, Clemson
Of course we can't go far down this list without mentioning the Touchdown Jesus himself, Trevor Lawrence. Though his 2019-20 season was a little rocky, Lawrence went on a tear after their close victory vs UNC. If you include the ACC Championship game, Lawrence threw for 26 of his 36 touchdowns after the UNC game, and only three picks. Now with pretty much all of LSU heading to the NFL, including some coaches, I think it is safe to say Clemson is primed for another run at the title. He can truly cement himself as one of the All-Time great college QBs with another strong title run under his belt.  It is going to be hard to find a better quarterback prospect than Trevor Lawrence this year, and should have a few GM's looking to forgo their 2021 season in order to draft his talents. 
3. Justin Fields, Quarterback, Ohio State
It is wild to me how Fields and Lawrence have been linked to each other for most of their football lives, and here they are again, battling for the rights to be "QB1". In many ways I could see Fields actually sneaking above Trevor Lawrence if he has yet another dominate season. In 2019 Fields finished with 40 passing touchdowns to just a single interception before the semi-final game against Clemson. He also rushed for another 484 yards and 10 touchdowns. He makes big plays, is smart with the ball, a great leader, and most importantly he is still growing as a prospect. I can't wait to see what Fields and the Ohio State Buckeyes can accomplish in 2020.
4. Ja'Marr Chase, Wide Receiver, LSU
Even with a star studded 2020 wide receiver class, Chase would at worst be the 3rd best receiver this year. His performance alone in the National Championship vs A.J. Terrell is going to cost Terrell hundreds of thousands of dollars. He is a crisp route runner, with speed that is hard to keep up with, and a great knack of high pointing the ball when it's in the air. Chase should be able to be rotated across the field, playing inside or outside. Long story short, he is an all around receiver with unlimited potential in the NFL. I have no issue with Chase being a Top 10 draft pick as of April, 2020.
5. Micah Parsons, Linebacker, Penn State
It has been a few years since we've seen an elite linebacker come from Penn State, but Micah Parsons is definitely the next great Nittany Lion linebacker. He plays fast, reacts fast and hits hard; that's why he is the top ranked prospect in a very deep class of linebackers this year. He ended his 2019 campaign with 109 total tackles, 14 tackles for a loss and five sacks. Listed as an outside linebacker, Parsons really can play in any scheme. At 6'3, 245 Lbs, he has the frame to play outside in a 3-4, or play inside in a 4-3. His versatility to play in any scheme and still be able to be a potential All-Pro is why he is one of the safest prospects in the class.
6. Gregory Rousseau, Defensive Lineman, Miami (FL)
Miami might not have been the best team overall last year, but Gregory Rousseau was still made huge, and sometimes very flashy, plays for the Hurricanes. He is a 6'7 defensive end that can make plays in the flats and move inside and make plays at defensive tackle too. He did it all last year for Miami. Rousseau has long arms, and seemingly can tackle quarterbacks with just one hand one them. I think he is going to be 2021's Isaiah Simmons in the sense of being a complete defensive weapon. Last year he finished 2nd in the NCAA in sacks with 15.5 and 19.5 tackles for loss.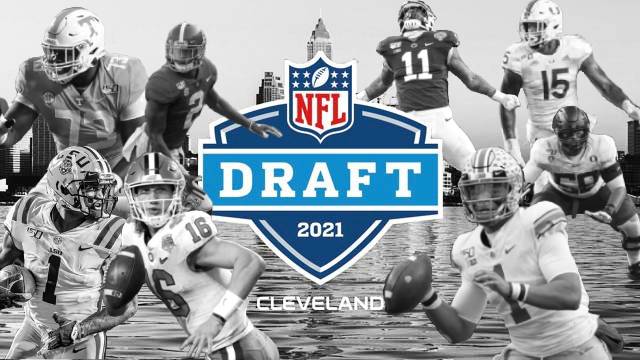 7. Patrick Surtain II, Cornerback, Alabama
Many will argue who the true "DBU" is, but Alabama would have to be a part of that discussion. Nick Saban has coached some of the best secondaries over the past 15 years, and Patrick Surtain II is going to be the next one out of that lab. If you were to envision a Nick Saban cornerback, Patrick Surtain II would fit the mold perfectly. His father was a 3x Pro Bowl cornerback for the Miami Dolphins, which explains why Jr carries himself like a professional already as just a sophomore.
Surtain is a big, and physical defensive back who can be lined up all across the secondary. He is all of his 6'2, 200 Lbs frame and has long arms that help him break up passes. His length allows him to blanket receivers at the line of scrimmage, making life very difficult for them to progress through their routes. Last year Patrick had 42 tackles, three forced fumbles, two interceptions and eight pass deflections.
8. Xavier Thomas, Defensive End, Clemson
We couldn't make it too far down this list without mentioning a Clemson defender. Our first one is Xavier Thomas. The former 5 star defensive end had an impactful freshman campaign with Clemson, and was named a freshman All-American in 2018. As a full time starter though, we did see a small drop off in production. Thomas showed his leadership by holding himself accountable for a lackluster season. He is heading into 2020 with a chip on his shoulder, and has his edge back from his freshman year.
9. Dylan Moses, Linebacker, Alabama
Moses was one of the top prospects heading into 2020, but sadly suffered a season ending ACL injury pretty much before the season could even get started. Even with the injury, many teams would probably elect to take Moses in the late 1st round, and could have been one of the first linebackers called off the board. He elected to return for his senior year, along with a bunch of other talented Crimson Tide players, and hopefully give NFL scouts something to look at this year.
10. Trey Smith, Offensive Lineman, Tennessee
If it weren't for a suspect medical history, I strongly think Trey Smith could have been the first guard taken in 2020. He is dominating in the run game, and is a good pass blocker too. Turn on his film, and you'll immediately see him pancaking his defender, and consistently getting to the second level of the defense. On top of all that, Smith was a 5-star tackle when coming out of high school, and played left tackle for the Vols in his freshman and sophomore years. This means he has swing ability across the offensive line, giving the team even more depth.
The big issue? Smith has been on and off the football field due to blood clots in his lungs. The issue was originally discovered in February of 2018, but were thought to be resolved for the 2018 season. However, seven games into his sophomore season the Tennessee training staff said they found them again, cutting his season short.