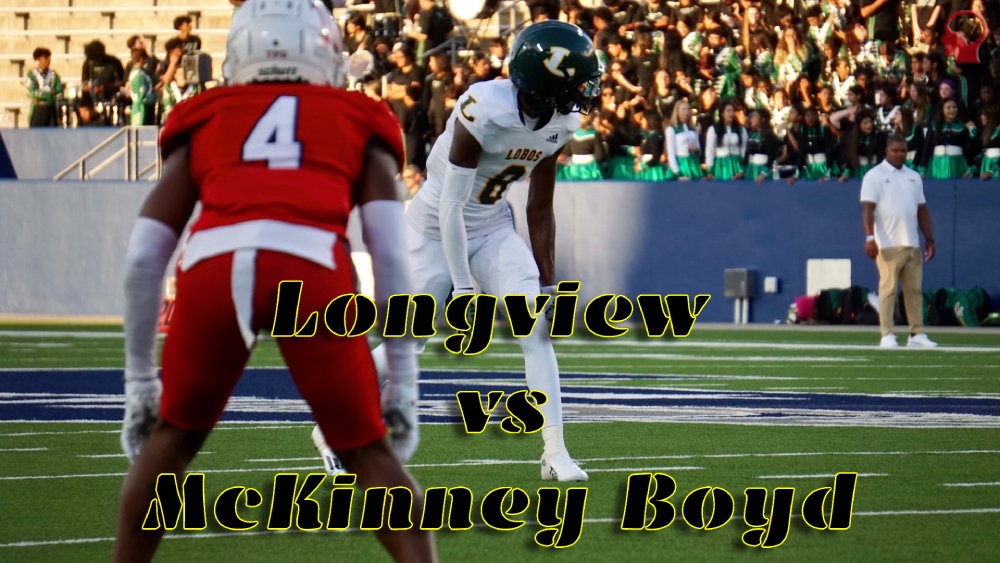 The night started off beautiful in McKinney, Texas as we checked out the Longview Lobos take on the McKinney Boyd Broncos. That changed at halftime as things got rather stormy but that couldn't stop our Friday Night Lights kick off. Longview is led by two extremely talented pieces on offense in Jalen Hale & Taylor Tatum while the Broncos have Sheldon King at running back.
Jalen Hale got things popping off quickly by taking the ball 75-yards to the house early in the first quarter. Not too long after that the Broncos responded with a deep shot of their own setting them up inside the Lobos 40. With 3:55 left in the 1st quarter McKinney Boyd found some points as they knocked down a FG.
It wouldn't take long for Longview to get down into scoring position once again however. Right before the first quarter ended Jordan Allen would lob a pass up to Jalen Hale which would result in their second TD of the game. By halftime Jalen Hale would already have over 120 yards and two touchdowns.
McKinney Boyd failed to get anything going in their attempt to respond to the Hale touchdown, but the Lobos gave the ball right back on a muffed punt. This time the Broncos would take advantage for the amazing field position, and get the ball in the end zone. Sheldon King bounced to the outside and punched in a 10-yard rushing touchdown to bring the game to 14-10.
Both sides came to a stalemate offensively until right before halftime. Longview marched down the field and extended their lead to 11 thanks to a Taylor Tatum touchdown. The Lobos took that 21-10 lead into halftime and thats when things would start to get a little rainy.
In the 3rd quarter Taylor Tatum would punch in a controversial touchdown to give the Lobos an 18 point lead. Tatum was within the three-yard line when it looked as if McKinney Boyd had forced a fumble and recovered it. From our angle, this would look to be the case. However the refs would rule it Tatum's second touchdown of the day thus crushing the Broncos defense.
Boyd was unable to put up any points in the second half and were only able to complete 35% of their passes on the night. Tatum would cap off his 144 yard, three touchdown performance with a 59-yard touchdown run and put the cherry on top of this Lobo's dominant win.
Longview moves on to 1-0 and will get ready to face off against the 1-0 Marshall Mavericks. McKinney Boyd will try to move past this opening week loss and face off against the 1-0 Byron Nelson Bobcats. Be sure to check out our other Week 1 matchups between Bixby & Owasso in the Battle of the Burbs. As well as Haltom & Everman and South Oak Cliff & Duncanville for the match ups we covered this Saturday.